Azealia Banks Hints She's Going to Use Voodoo to Burn Down Lana Del Rey's House
"I want to see as many #Azealiavoodoo hashtags as possible."
---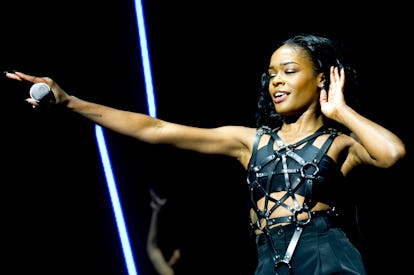 Ollie Millington/Getty Images
"Real witches do real things." So said Azealia Banks, in a video she posted two years ago depicting the inside of the closet where she purported to have been sacrificing chickens over the course of "three years of brujería." She may have used her sandblaster to scrub out the blood and feathers caked to her closet, but that doesn't mean Banks has stopped casting spells. It just means she has a more sanitary space in which to conjure her witchery. Indeed, in the latest development of her ugly, public feud with Lana Del Rey, the rapper hinted that, if the singer's house were to burn down, she might have something to do with it. With magic.
Last month, Del Rey criticized Kanye West's support of Donald Trump, commenting on an Instagram post of the rapper in his MAGA hat, "Trump becoming our president was a loss for the country but your support of him is a loss for the culture." (West has since deleted his social media accounts.) This prompted a response from Banks: "You, a privileged white woman, have no f–king business opening your mouth to a black man from Chicago, telling him what he should and shouldn't f–king believe in," she wrote on Twitter (via her unverified account, @shopcheapyxo, created after her real account was suspended for—you got it—another feud).
Thus their feud was born. In the midst of things, a fan of Banks chimed in on Twitter, urging her not to let Del Rey "ruin all that she's worked for," per Bossip. "You know The Big Bad Witch is smarter than that," Banks replied. "When her house mysteriously goes up in flames while she is asleep inside," she went on, "I want to see as many #Azealiavoodoo hashtags as possible." (It's not the first time Banks has wished death on a perceived nemesis—just consider Wendy Williams, who, earlier this year, Banks said she hoped would succumb to a heart attack.)
Honestly, if Del Rey's hex on Donald Trump had worked in the first place, maybe we wouldn't all be watching this unfold. But there's also the chance this will end with a simple apology letter.
Related: A Complete Recap of Lana Del Rey and Azealia Banks's Very Ugly Twitter Feud