A Complete Recap of Lana Del Rey and Azealia Banks's Very Ugly Twitter Feud
How Del Rey's speaking out against Kanye West led to her making physical threats.
---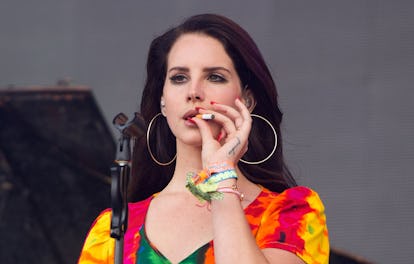 Samir Hussein/Getty Images
Just over a week after being at the front of a long line of celebrities criticizing Kanye West for his latest round of pro-Trump antics, Lana Del Rey is now dealing with the consequences: a much uglier and more trivial feud with the rapper and professional provocateur Azealia Banks.
Banks, still not that far removed from that whole Grimes and Elon Musk madness, moved on to her next Internet spat on Tuesday night. Apparently, she had received word of Del Rey's comments to West, whom she'd just "reconnected" with. Banks then embarked on a tweet storm on her new unverified account @shopcheapyxo. (Her official account has once again been suspended for similar feuding.) The 27-year-old rapper then quickly moved from criticizing Del Rey for commenting on the situation as a white woman to attacking her physical appearance, tweeting a photo of the singer, and making suggestions as to how she could improve it, including a crude substitute for Botox involving semen, and of course Banks's new soap products, which she then proceeded to thank Del Rey for helping her promote.
Naturally, it wasn't long before Del Rey responded, telling Banks: "u know the addy. Pull up anytime. Say it to my face. But if I were you- I wouldn't." She then moved the conversation out of her replies to her main feed, tweeting "I won't not f— you the f— up. Period," which has since gotten well over 100,000 retweets and 300,000 likes. Lest there was any mistake, her next tweet made it crystal clear who she was addressing: "Banks. u coulda been the greatest female rapper alive but u blew it. dont take it out on the only person who had ur back." She then added to Bank's thread about her physical appearance, offering to put Banks in touch with her surgeon and "a good psychiatrist."
Banks declined Del Rey's offer by suggesting that Del Rey's surgeon was the one who lead her to be addicted to Oxycodone—a topic she also raised in a separate rant on her Instagram Stories, describing Del Rey's performances as consisting of moves like a "cokehead Oxycodone turnaround" while she does her "little Lolita chola cosplay."
In between further digging into Del Rey's appearance, advising her that she had bigger problems to worry about than "Kanye West and his hats," she also got much more specific about her real qualms with the 33-year-old singer: her politics. Specifically, she accused Del Rey of only weighing in on issues that involve an "easy target" like West, whom Banks clearly doesn't think Del Rey should have anything to do with. "You, a privileged white woman, have no f—ing business opening your mouth to a black man from Chicago, telling him what he should and shouldn't f—ing believe in," she said, adding (among many, many other things) that Del Rey was among the white women in Hollywood who "will take any opportunity to make themselves seem more righteous in regards to black men who don't bow down to their vapid 'social power.' "
In an impressive display of multitasking, Banks was simultaneously also going off on Twitter, retweeting her fans' reactions, which ranged from merely petty to seriously alleging racism (ex. "azealia would be ratchet if she called lana out to fight first, but bc lana does it, and she's the one with the pasty white skin, everyone stans her") to standing by her claims that Del Rey was never there for her when she reached out for help, despite touting herself as someone who supports women. Banks also brought West back into the matter, posting a screenshot that appeared to show he'd taken her side.
Banks then asked her followers if she should "be extra white woman and sue Lana for threatening" her—an idea she seemed to be seriously entertaining when, soon after, she retweeted a story about Del Rey's tweets along with the comment "She's getting sued!" Del Rey, who has already gotten into a legal battle this year with Radiohead, told Banks to tell her lawyer that her words were "a promise not a threat."
Still, Banks didn't seem to be taking things too seriously. She seemed to be tuning in to the American Music Awards and watching videos of the launch of Musk's SpaceX rocket, which she later personally praised him for, retweeting a photo he posted of the launch with the comment "Uggggh Daddyyyyy ?." (Notably, she also posted a topless video of herself.)
Meanwhile, Del Rey has been laying low, though the same can't be said for her fans. Some even apparently took it upon themselves to edit the "Years active" section of Banks's Wikipedia page, putting in the day of the feud as her career's end date. (It's since been changed back to "2008–present.")
Related: Celebrities Have Had It With Kanye West's Pro-Trump Antics