Barbra Streisand Would Like to Know Where Donald Trump's Dog Is
The topic is certainly the most unique serious criticism of his administration yet.
---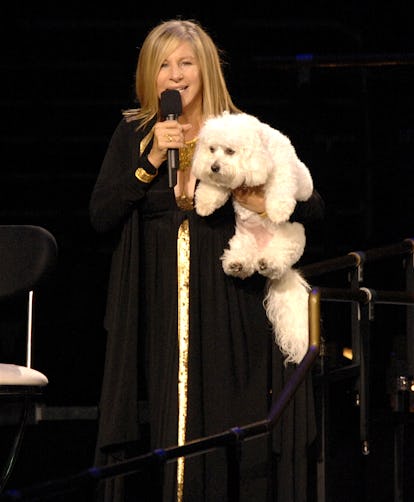 KMazur/WireImage/Getty Images
Barbra Streisand has never been afraid to speak her mind, but when it comes to her opposition to Donald Trump it seems like she's just warming up. Last month, she released a rare new song that was essentially the musical equivalent of a savage Trump takedown, with lyrics like "How do you sleep when the world is burning?" (Trump's "assault on our democracy, our institutions, our founders" has made her go "ballistic," she told the Associated Press.)
The song, "Don't Lie to Me," accompanied by Streisand's debut in the realm of anti-Trump video art, is one of 11 that make up Walls, Streisand's first new album of mostly original songs in more than a decade, which she's been tirelessly promoting. The latest example: Her invitation to a reporter from the L.A. Times to spend some time with her in one of her several living rooms. And, naturally, given that Streisand was wearing a T-shirt emblazoned with Trump's face and the words "American Horror Story," the pair talked politics from the get-go.
As it turns out, in addition to her multiple living rooms, Streisand also has several dogs. There are the two puppies she infamously had cloned from her previous dog, Samantha, as well as a white Coton de Tulear named Miss Fanny. The latter finally had a chance at stealing the spotlight from the clones by scampering into the living room—and prompting Streisand to deliver one of the unique takes on Trump's qualification (specifically, lack there of) for office yet.
Prior to Miss Fanny's entrance, the pair had been discussing matters such as the midterm elections, former president George W. Bush's so-called War on Terror, and, of course, Streisand's new album, which she said was in part inspired by the Weeknd's single "Starboy," which she guessed she first heard at "some awards show." (Despite the fact that she "didn't even know what the hell he was saying," she described its overall sound as "really cool."). Then, after she waxed poetic about former president Barack Obama—whose time at the White House saw Bo, the name of the family's Portuguese Water Dog, become almost as well known as Malia's and Sasha's—and explained the logistics of the placement of her house's pee pads, Streisand came to a realization while nuzzling Miss Fanny.
"How does the president not have a dog?" Streisand asked the reporter, apparently incredulous. "He's the first president in 120 years that doesn't have a dog in the White House." (As the L.A. Times notes, the last dog-less president is thought to have been William McKinley, whose term began in 1897.) The thought seemed to strike her so much that it prompted her to return to her printed talking points, reading aloud another question: "What kind of country do you want to live in?"
Leave it to Babs to turn the seemingly irrelevant topic of Trump's lack of dog into yet another convincing example of why she doesn't support the president. The answer to how to keep the country from going to the dogs is, of course, not simply a country governed by a president with a furry companion, but rather for Trump not to govern the country. After all, given his track record for publicly disregarding swaths of people, from transgender individuals to any and all immigrants, it's hard to believe that anyone in his administration could keep even a goldfish alive for more than a week.
Related: Two of Barbra Streisand's Pets Are Clones of Her Now-Deceased Dog Samantha
The Best of Babs: The Original Red Carpet and Front Row Risk-Taker
Streisand attends the 1969 Academy Awards ceremony in a see-through, sequined two-piece suit. She tied for Best Actress with Katharine Hepburn for her role in "Funny Girl."

ABC Photo Archives/Getty Images
Streisand attends a Chanel fashion show in Paris with photographer Richard Avedon, wearing a leopard skin suit in 1966.

Getty Images
Streisand wears white knee-high lace-up boots in 1966.

Getty Images
Streisand in a three-piece suit, stands in front of a folding screen with her hands on her hips in 1965.

Getty Images
American singer and actor Sammy Davis Jr. stands with presenter Barbra Streisand, who wore a sequined gown and choker at the 1968 Academy Awards ceremony.

Getty Images
Streisand drinking coffee at a New York restaurant wearing a newsboy cap in 1963.

NY Daily News via Getty Images
Streisand wearing a tuxedo and bowtie at the after party for the 1976 New York premiere of "A Star Is Born," which took place at Tavern on the Green.

WireImage
Actor John Wayne and Streisand at the 42nd Annual Academy Awards in 1970.

WireImage
Streisand wearing a matching polka-dot dress and headscarf at her townhouse in New York City in 1970.

WireImage
Streisand walks with her boyfriend, Jon Peters, in London Airport before the premiere of "Funny Lady" in 1975 wearing an ensemble that was emblematic of the decade.

Getty Images
Streisand arriving with her husband, actor Elliott Gould, at a party for the film, "Bullitt" in 1968. Streisand wears large sunglasses, and Gould wears a dapper trench.

Getty Images
Streisand looking easy and breezy in 1966.

Getty Images
Streisand attends the premiere and after party for "Hello, Dolly!" in 1969 look like the queen of New York in all-white and fur.

WireImage
Streisand dressed in white with a mink fur hat and trimmings in December 1969.

Getty Images
Streisand stands out at a pro-Israel rally at the Hollywood Bowl in Los Angeles, to raise emergency funds for Israel after the Six-Day War in 1967.

Getty Images
Streisand wearing a fuchsia pink silk dress with a scoop neckline and a matching bow around the waist, circa 1965.

Getty Images
Streisand attends the 1992 U.S. Open Tennis Championship with Michael Bolton wearing a white bucket hat and round sunglasses.

WireImage
Streisand at "The Prince of Tides" Los Angeles Premiere in 1991 wearing a white lace busier underneath a white suit jacket.

WireImage
Streisand wearing a red-and-white wool dress and cardigan, circa 1965.

Getty Images
Streisand wears a velvet cape and turban in the 90s.

Gamma-Keystone via Getty Images
Streisand attends the 57th Annual Golden Globe Awards wearing a shimmering sweater dress in 2000.

WireImage
James Brolin and Streisand attend the 56th Annual Emmy Awards in 2004, where she wore yet another velvet cape — this time in pink.

FilmMagic
Streisand showed some leg at the premiere of "A Guy Thing" in 2003.

WireImage
Streisand wears her now-signature suit and bowtie to the 23rd annual Glamour Women Of The Year gala in 2013.

FilmMagic
Streisand is all sparkles in head-to-toe blue at the American Society Of Cinematographers 29th Annual Outstanding Achievement Awards in February, 2015.

Paul Archuleta/Getty Images
Streisand heads to the Renaissance fair, aka LACMA's 50th Anniversary Gala, in yet another choker and a loose head of curls in April, 2015.

Charley Gallay/Getty Images
Streisand puts on a choker and and matching green gown for the 42nd Chaplin Award Gala in New York in April, 2015.

Kevin Mazur/Getty Images
Streisand crimps her hair and throws on a tasseled necklace to be honored at the Hollywood Reporter's Women in Entertainment Breakfast in Los Angeles in December, 2015.

Todd Williamson/Getty Images
Streisand channels the '90s in ruffled cuffs and another choker at a town hall with SiriusXM and the cast of School Of Rock in New York in August, 2016.

Kevin Mazur/Getty Images
Before spreading out her flowing gown onstage at the opening night of her 2016 tour, "Barbra: The Music, The Mem'ries, The Magic!*, Streisand shows off her beads backstage in Los Angeles in August, 2016.

Kevin Mazur/Getty Images