Two of Barbra Streisand's Pets Are Clones of Her Now-Deceased Dog Samantha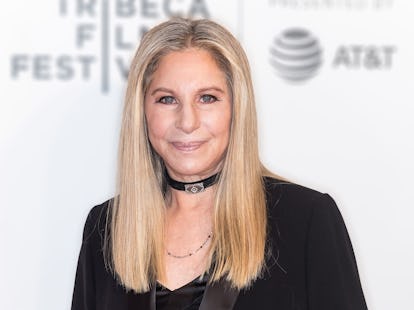 Getty Images
Like any sensible EGOT-earning film and Broadway star with money to blow and a mansion to fill, Barbra Streisand has turned to advanced technologies to expand her furry family. In her cover story for this week's issue of Variety, the icon revealed that after her beloved dog Samantha died she had two clones of Samantha made, because how else are stars born? Streisand explained that before Samantha, a Coton de Tulear, died at the age of 14, in 2017, she had cells taken from the inside of the dog's mouth and stomach in order to create two brand-new Samanthas.
The clones are named Miss Scarlett and Miss Violet, but lest you think that Babs is merely a huge fan of the board game Clue, she admitted that the dogs' names actually come from the colors of the sweaters she's dressed them in since they were born so she can tell them apart. And while Miss Scarlett and Miss Violet certainly look a lot like their fluffy ancestor, Streisand still isn't sure just how far the resemblance goes. "They have different personalities," she told Variety. "I'm waiting for them to get older so I can see if they have [Samantha's] brown eyes and seriousness."
The multihyphenate also owns a third canine, who, though not a clone of Samantha, does boast distant family ties to the dearly departed dog. Miss Fanny is named after Fanny Brice, the titular Funny Girl in the 1968 film that landed Streisand the Oscar for Best Actress; incidentally, the pup's mother's name was Funny Girl. According to Variety, Miss Fanny is a distant cousin of Samantha, who was introduced to Streisand by a breeder. Streisand was immediately smitten, and the rest is Hollywood history.
The fluffy trio are now comfortably seated in the lap of luxury, as seen in Streisand's frequently Instagrammed shots of them:
Related: Barbra Streisand's Instagram is Pure Throwback Magic