Paris Hilton Says Dressing Up as a Kim Kardashian West "Clone" Was "Really Cool"
She did it to promote Yeezy Season 6.
---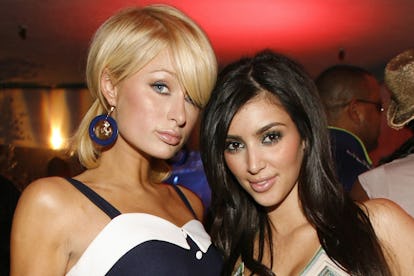 Getty Images
Anyone would be thrilled to step into Kim Kardashian West's stilettos: She's a successful makeup mogul, reality star, and fashion icon. Paris Hilton did just that last week, and, as expected, she has only positive things to say about the enviable experience.
This week, the heiress opened up to Entertainment Tonight about the transformation, which was part of a promotion for Kanye West's upcoming Yeezy Season 6 collection. "They called me and said that Kanye wanted me to be a part of the the Yeezy campaign, and then they came and got me ready," Hilton told ET. "I looked in the mirror and I'm like, 'Oh my god! I look like a Kim clone!'"
Hilton went on to say that stepping into her childhood friend's shoes for a day was a "really cool" experience. "I thought it was awesome that there were so many girls that did it," she said, referencing how designer Sami Miro, influencer Sarah Snyder, model Yovanna Ventura, and Kylie Jenner's BFF Jordyn Woods, among others, also dressed up as the KKW Beauty founder for the campaign. "I love the line, it's very sexy," Hilton added. "[Kim and I] have known each other since we were little girls. It was a fun thing to do."
The 36-year-old shared photos from the shoot on Instagram last Wednesday. In them, she re-creates recent paparazzi shots of Kardashian West, with her then-platinum waist-length hair worn middle-parted and down, walking in parking lots and on the sidewalk while wearing neutral-toned bra tops and sweatpants. "? #YeezySeason6," she captioned one shot. "So much fun being a #KimClone in the new #YeezySeason6 campaign. ?" she wrote alongside another. She also shared a mirror selfie of her in head-to-toe Kim K drag, writing, "#PlatinumBae."
Though the two socialites have had their fair share of ups and downs, Kardashian West and Hilton's friendship is clearly currently on a high note. In early January, shortly after Hilton announced her engagement to actor Chris Zylka, she was asked whether her frenemy would be invited to her wedding. "Of course," she told the TMZ reporter hounding her on her way out of a restaurant, smiling a demure smile and refusing to give up any further details about her upcoming nuptials. Now all we need is confirmation of Nicole Richie's invite, and the Simple Life reunion we've been dreaming of will be all set.
Related: Kim Kardashian's KKW Kimoji Hearts Fragrances Made $10 Million Using Post-its, Cementing Her Status as a Marketing Genius
Paris Hilton Is Still the Unofficial Ambassador of Ibiza, Summer's Official Party Island
Paris Hilton is in Ibiza for the summer and seems to be spending the majority of her time at Amnesia nightclub; here, in July 2017.

@parishilton
Paris Hilton at Amnesia nightclub, where she hosted the Foam & Diamonds party, in Ibiza, Spain, July 2017.

@parishilton
Kristina Bazan enjoys some oranges in Ibiza, Spain, July 2017.

@kristinabazan
Publicist Lorenza De Paola at the Loewe summer store opening in Ibiza, July 2017.

Lorenza De Paola / Instagram
Italian model Federica Nargi in Ibiza, Spain, July 2017.

Federica Nargi / Instagram
Kristina Bazan at Sant Josep, Ibiza, July 2017.

@kristinabazan
Blogger Adriana Boho in Ibiza, Spain, July 2017.

@adrianaboho
Swedish musician Awa Santesson Sey in Ibiza, Spain, July 2017.

@awasantessonsey
Designer Gilda Ambrosio of The Attico at the Loewe opening at MACE in Ibiza, Spain, July 2017.

@gildaambrosio
Gilda Ambrosia, Chiara Capitani, Alessandra Capitani, and Giorgia Tordini in Ibiza, Spain, July 2017.

@chiaracapitani