Barbra Streisand's Instagram is Pure Throwback Magic
A deep dive into the musical icon's Instagram presence.
---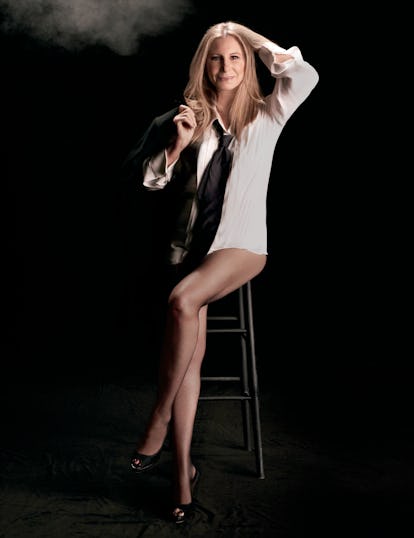 Forever Barbra. Photo by Steven Meisel, styled by Edward Enninful. W Magazine, December 2016.
Barbra Streisand sings in Yentl, the more I live, the more I learn, the more I learn, the more I realize the less I know, but what I do know for sure is that Barbra Streisand's Instagram is a sacred space for any fan of the iconic musician, actress, and director with two Academy Awards, a Tony, 14 Grammys and a voice so pristine it could shatter your entire soul.
In honor of Barbra: The Music…The Mem'ries…The Magic!, the Netflix concert film Barbra Streisand has been so excited about that she shared the wrong release date on her Instagram, we thought it would be worth taking a look at what is going on with the rest of her grid.
Babs' team must behind most of these posts—they often refer to Barbra in the third person and she is tagged in so many of her own photos of herself—but occasionally we'll get a glimpse of the world via Barbra's own perspective. While her Instagram is not as quirky as Diane Keaton's or painstakingly curated like Beyoncé's, Barbra Streisand's Instagram is the place to look if you want to feast your eyes on some old Hollywood throwbacks or style inspiration from the Queen Bee.
Her instagram appears to consist of mostly throwback pics, like this iconic "Get Happy/Happy Days Are Here Again" duet Barbra sang with Judy Garland on an episode of The Judy Garland Show in 1963 (a moment so nice, she posted it twice).
From moments of Barbra caught on camera while directing Yentl to the occasional set visit from Madonna, trust me when I say nobody loves a flashback or a throwback like Barbra Streisand. Her famous friends rule her grid, but most of the photos are from the past. She cannot get enough of a #TBT or #flashbackfriday moment.
The most endearing aspect of this Instagram account comes from her very first post, in which Barbra Streisand is reclining on a wicker chair with her dog Sammie, not to be confused with Sadie, the pup she was gifted on the set of Funny Girl that also looks exactly like Sammie, the pet she brings everywhere.
This image of Barbra Streisand holding her dog, Sammie, while holding another kind of sammie in her other hand is clearly a power move.
Sammie is a teenager now, by the way, and also possibly a member of the Directors' Guild of America.
Not to steal the spotlight from Celine, but Sammie is kind of the star of this photo.
I have no idea where she got this many white stuffed animals or why she would have them in her house, but I'm guessing if you can find Sammie amongst the various fluffy friends, you'd win some sort of prize from Barbra Streisand herself. The best part of this photo, though, is the framed picture in the very far background of a dog that could either be Sammie or Sadie.
Barbra Streisand is also not afraid to get festive, nor is she scared to post the occasional paparazzi shot or punny sign she sees on her travels.
Her son Jason Gould, who is also a musician, makes the occasional appearance on her account, but she does not post nearly as many photos of Jason as she does of Sammie.
This is just a picture of my very own license plate that I wanted to share (kidding, I don't own a car).
Related: Why Dakota Johnson's Blank Instagram Is a Total Power Move
Barbra Streisand Met Her Husband on a Blind Date