Barbra Streisand Took a Break From Tweeting About Trump to Roast Three Billboards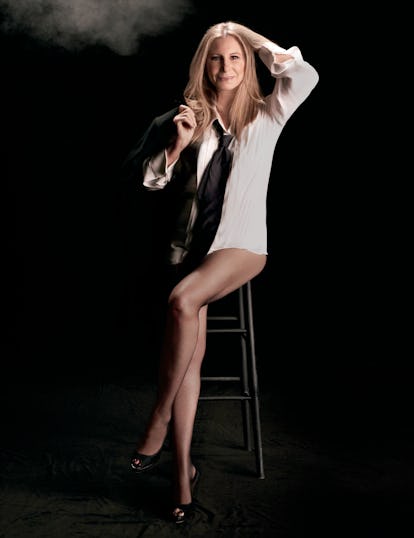 Forever Barbra. Photo by Steven Meisel, styled by Edward Enninful. W Magazine, December 2016.
Barbra Streisand's Instagram is a space for inspiration and nostalgia, with Old Hollywood throwbacks galore (like the time Madonna visited her on the set of Nuts), casual name drops (hanging with Oprah at John Travolta's surprise 50th birthday in 2004), and other treasures (including a lot of snaps of her dog, Sammie). But her Twitter is another thing entirely. These days, Streisand pretty much tweets about two things only: her merch and the state of American politics. Actually, that's a bit of a misrepresentation: Barbra Streisand pretty much tweets only about Donald Trump, with the occasional break for tweets about the new arrivals in her online store or an iconic dress she's graced with her skin cells. For the sake of, you know, levity.
Late Thursday night, however, the icon took a break from her newfound calling as a political commentator to compose the perfect tweet. Uploading three pictures of billboards promoting her upcoming Netflix special and PaleyFest tribute, all of which feature her prominently, Streisand tweeted, "Three Billboards Inside Los Angeles, California." And the internet went nuts.
Now, explaining why a tweet is perfect inevitably dampens its perfection, but regardless, we will provide some context. Most obviously, Streisand's tweet is an obvious reference to Martin McDonagh's divisive, Oscar-nominated film Three Billboards Outside Ebbing, Missouri, an extremely dark comedy about the horror of losing one's child, the systemic ineptitude of local law enforcement, and the redemption of one racist, homophobic cop. Secondly, Streisand is an iconic diva. The marriage of these two tonally disparate pop-culture entities, mixed with an on-brand irreverence only a musical theater legend can pull off… Well, your fave, as they say, could never.
Still unclear how she feels about the politics of that particular film, however. Surely, Babs has an opinion—everyone else does.
Related: Barbra Streisand's Instagram is Pure Throwback Magic