Bella Hadid and David Beckham Watched a Soccer Game Together; Might Be Best Friends Now
What did they talk about?
---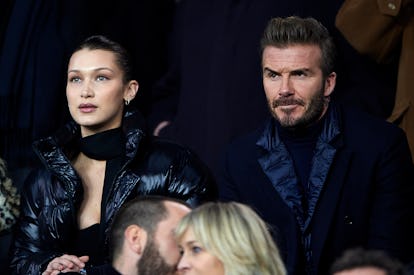 Manuel Queimadelos Alonso/Getty Images
You never know who you'll run into during Fashion Month, when celebs from all industries flock to the style capitals to attend shows and, more importantly, mingle at exclusive parties. On Tuesday, the last day of a typical whirlwind Fashion Month, Bella Hadid kicked back with a low-key trip to Paris Saint-Germain's (losing) soccer match against Real Madrid at the Parc des Princes arena in Paris — only to be seated next to possibly the VIP soccer player himself: David Beckham.
In photos from the game, many of which were shared by The Scottish Sun, Beckham and Hadid look excited to shake hands and introduce themselves, before proceeding to sit down and watch the match with only minimal conversation. The moments when they did chat, however, seem intriguing — what would the 42-year-old footballer turned family man and the 21-year-old supermodel have to talk about? A few theories: Beckham may have been recruiting Hadid to walk in wife Victoria Beckham's next fashion show or asking for tips on how to jumpstart 6-year-old daughter Harper's career on the catwalk. Meanwhile, Hadid could have been asking Beckham to sneak her into the upcoming royal wedding or milking him for details about the rumored Spice Girls reunion.
After several weeks of traveling around the world, you wouldn't blame Hadid for zooming straight home to the U.S. after the soccer match. But, apparently, there's no rest for the hardworking model, who revealed on her Instagram Story Wednesday that she was still in Paris, snacking on croissants and putting in some time as the face of Dior Beauty. Clearly, you don't become one of the world's highest-paid models by getting a solid eight hours of sleep every night.
Related: How Bella Hadid Ruled the World in 2017
Bella Hadid Is the Reigning Queen Of Model Off-Duty Style
Bella Hadid is seen walking in Soho on June 30, 2016 in New York City.

Getty
Bella Hadid leaves the 'L'Avenue' restaurant on October 28, 2016 in Paris, France.

Getty
Bella Hadid is seen in Soho on November 14, 2016 in New York City.

Getty
Bella Hadid is seen in Midtown on February 14, 2017 in New York City.

Getty
Bella Hadid arrives at a party on February 28, 2017 in Paris, France.

Getty
Bella Hadid leaves her hotel on March 1, 2017 in Paris, France.

Getty
Bella Hadid is seen on January 21, 2017 in Paris, France.

Getty
Bella Hadid is seen in the East Village on November 18, 2016 in New York City.

Getty
Bella Hadid leaves the 'RIMOWA' boutique in Rue du Faubourg Saint Honore on March 6, 2017 in Paris, France.

Getty
Bella Hadid is seen at Chelsea Piers on March 30, 2017 in New York City.

Getty
Bella Hadid is seen leaving her apartment in the East Village on April 5, 2017 in New York City.

Getty
Bella Hadid seen on the streets of Manhattan on April 5, 2017 in New York City.

Getty
Bella Hadid on a night out at Sexy Fish restaurant in Mayfair on April 19, 2017 in London, England.

Getty
Bella Hadid is seen in the East Village on April 25, 2017 in New York City.

Getty
Bella Hadid is seen the East Village on April 29, 2017 in New York City.

Getty
Bella Hadid is spotted during the 70th annual Cannes Film Festival on May 17, 2017 in Cannes, France.

Getty
Bella Hadid is seen in Chelsea on May 4, 2017 in New York City.

Getty
Bella Hadid is spotted at the Majestic Hotel during the 70th annual Cannes Film Festival at on May 20, 2017 in Cannes, France.

Getty
Bella Hadid is seen in NoHo on May 10, 2017 in New York City.

Getty
Bella Hadid enters a Noho apartment on June 06, 2017 in New York City.

Getty
Bella Hadid is seen at 'L'Avenue' restaurant on June 9, 2017 in Paris, France.

Getty
Bella Hadid is spotted at the 'Majestic' hotel during the 70th annual Cannes Film Festival at on May 27, 2017 in Cannes, France.

Getty
Bella Hadid is spotted at Airport Roissy Charles de Gaulle airport on June 11, 2017 in Paris, France.

Getty
Bella Hadid is seen in the East Village on June 12, 2017 in New York City.

Getty
Bella Hadid seen on the streets of Manhattan on June 13, 2017 in New York City.

Getty
Bella Hadid is seen at LAX on June 21, 2017 in Los Angeles, California.

Getty
Bella Hadid seen out in Manhattan on July 17, 2017 in New York City.

Getty
Bella Hadid is seen in Paris, France, on June 3, 2017.

Getty
Bella Hadid is seen walking in Soho on July 19, 2017 in New York City.

Getty
Bella Hadid is seen on August 26, 2017 in New York City. (Photo by Ignat/Bauer-Griffin/GC Images)

Ignat/Bauer-Griffin