Cruz Beckham's 13th Birthday Party Was a Mixed Bag of Pop Culture References
The youngest Beckham boy threw a Gatsby-meets-Borat themed birthday party in London.
---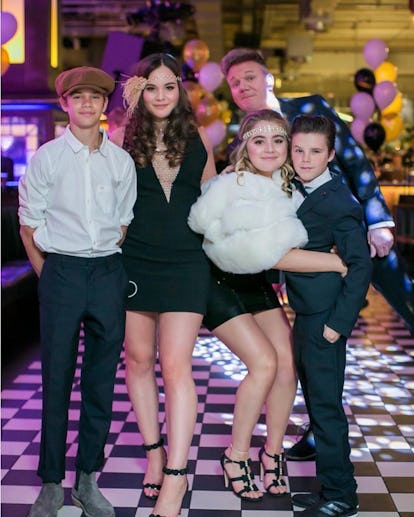 Photo by @romeobeckham.
London Fashion Week has had plenty of over-the-top parties, but few compared to that of 13-year-old scion and aspiring singer Cruz Beckham's birthday. The youngest Beckham boy's 13th birthday party was apparently a Gatsby-slash-Borat themed extravaganza. Yes, you read that right—both Gatsby and Borat were the seminal cultural fixtures of Beckham's birthday event in London on Tuesday night.
As confusing as it may be that the party had both a dress code in line with the 1920s fashion of The Great Gatsby as well as a cake with Borat's face and signature "High five!" quote baked onto it, there's really not much else you can expect from a 13-year-old boy, but you have to wonder where the inspiration came from to combine these two paradoxical pop culture references into one birthday theme. Did Beckham recently watch Borat for the first time—a film which was released only a year after he was born, so to him it's probably an ancient morsel of culture—and read The Great Gatsby in school, or is it all some inside joke that only the Beckhams are privy to? In either case, it seems like the event was quite a mixed bag.
Both Beckham's mom and dad shared their birthday wishes for Cruz on Instagram, but according to social media it seems that Cruz's big brother Romeo was the only member of the family present to pose for a picture. A smiling Chef Gordon Ramsay, along with his daughters Holly and Tilly, were also in attendance, dressed according to the 1920s Jazz Age theme, although there is no word yet on whether or not Chef Ramsay is the one who baked that Borat cake for the birthday boy. Very nice, old sport!
Related: Victoria Beckham Enjoys Taking the Piss Out of Victoria Beckham: "I'm Always Poking Fun At Myself"