Bella Hadid Freaked Out Because Millie Bobby Brown Wore a Shirt Designed By Bella Hadid
Famous fast friends in the making.
---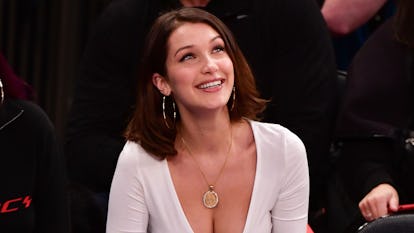 James Devaney/Getty Images
When your last name is Hadid, and you've rubbed shoulders with just about every famous person in the world, it's a rare occasion you're actually starstruck. That is, of course, unless it's one of the child stars of Stranger Things.
Yes, it would seem that Bella Hadid is, like most everyone else, a fan of those precocious pre-teens from Hawkins, Indiana. But beyond just binging the Netflix series like everyone else, Hadid got a special surprise from Millie Bobby Brown, who stars in the show as Eleven. On Thursday morning, Brown posted an Insta-story of herself lip-syncing to Demi Lovato's hit song "Sorry Not Sorry." In the clip, she is seen donning a white t-shirt that was part of Hadid's collaboration with the brand Chrome Hearts, which is helmed by her best friend Jesse Jo Stark's mom. Hadid, one of Brown's 12 million Instagram followers, took notice, and immediately reposted the clip on her own Insta-story, writing "Baby girl!!! Love!!! wearing @chromeheartsxbella I die for you @milliebobbybrown" and "I'm freakin out its fine."
While it is unknown if the pair have actually ever met IRL, both are signed to IMG Modeling agency, so their paths are bound to pass eventually, making for a very fashionable friendship in the making. And Hadid is not even the first of her clan to try to forge a friendship with the popular teen. Back in November, Brown declared her love of the Kardashians during an appearance on Late Night with Jimmy Fallon, and the family was quick to respond via Twitter. "It's a mutual love fest!! I LOVE you @milliebbrown! #Okurrrrttt this video made me smile from ear to ear BIBLE," wrote Khloe in response to the clip, as Kim joined in with, "OMG @milliebbrown we love you bible!!!!"
But it's none other than Drake—a rumored Hadid ex, in fact—whom Brown seems to have deemed her ultimate celebrity BFF. After attending his concert in Toronto late last year, the actress posted a picture of the two together at a Golden Globes party over the weekend with the caption, "blessed to have my security be my +1 at the netflix party." See? They already have inside jokes.
Related: How Bella Hadid Ruled the World in 2017
Millie Bobby Brown Does Her Best Karaoke Version of Bruno Mars' "Just the Way You Are"