Bella Hadid Had a Wardrobe Malfunction on the Runway at Paris Fashion Week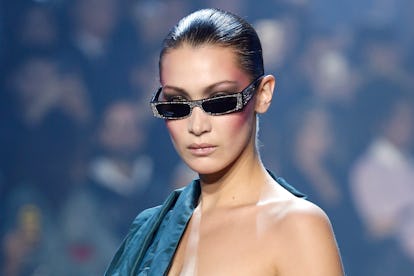 Chesnot/WireImage/Getty Images
Even the most in demand supermodels are bound to have a slip-up every once in a while. And Bella Hadid, for one, is not phased by a little accidental nudity.
While closing the Alexandre Vauthier show during Couture Week in Paris, the 21-year-old model wore a strapless black top and shorts, partly covered by an oversized, cascading jacket. However, the top was apparently not strong enough to withstand Hadid's fierce runway walk; it slipped a bit too far down, exposing more skin than intended. Not that Hadid seemed to notice the nip slip at all—her eyes, partly shrouded by slim black bedazzled sunglasses, stayed trained on the end of the runway like the consummate professional she is.
Hadid is no stranger to the nipple-related runway mishap. She kept her cool after accidentally flashing the crowd on the Victoria's Secret runway, and she intentionally freed the nipple when she wore a sheer Dior gown to celebrate Maria Grazia Chiuri's first couture collection for Christian Dior. So the latest incident probably wasn't much of a bother.
Of course, this model's reach extends far beyond the runway. She's inspired memes, put out her own T-shirt designs in collaboration with the brand Chrome Hearts, and fangirled over Millie Bobby Brown along with the rest of us, and oft been spotted cheering courtside at a New York Rangers or Knicks game. Basically, Bella has no time to stress over the tiniest of wardrobe malfunctions.