How to Get Your Best Summer Skin From Head-to-Toe
Dos and don'ts for a day at the beach.
---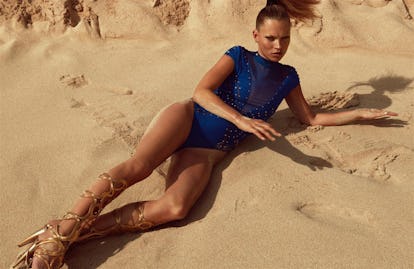 Photograph by Inez and Vinoodh, W magazine February 2006.
With summer officially in full swing, the season of jorts and beach trips is upon us—and with it, exposed skin and long periods of sun. Of course, while that might make for the most enjoyable season, it can also have plenty of negative effects on your skin. Luckily, dermatologist Karyn Grossman, the woman behind Gwyneth Paltrow's perennially flawless skin, is here to share how to keep your skin in top shape all season long. From how to protect your entire body while lounging on the beach to how to repair sun damage at the end of the season, read on for tips to achieve your best skin ever this summer.
Let's start with the body. How does one prepare oneself for a full day out in the sun?
During the summer, one definitely sees more body skin. Clothes are more revealing, and people are enjoying the beach and pool more often. The most important thing to do for your skin is to remember to apply a moisturizing SPF each morning to all exposed areas. Don't forget places like the top of your feet, the back of your neck, and your back if you are wearing more open tops. Protecting your skin from damaging UV rays is the most important thing to keep it looking good now and for years to come. Make sure to reapply SPF during the day if you are out for prolonged periods of time, which is a bit trickier to do when clothed, but SPF in sticks, sprays, and powders makes it a bit easier. And, when you can, cover up—it provides some of the best UV protection. A study just out shows that only 14 percent of men and 30 percent of women use SPF daily. It's something we all need to be better about.
Your nighttime routine will depend upon your day. After a normal day, when not at the beach or pool, you can try a light dry brush on any flakey areas, or use a gentle scrub or brush in the shower. If you have peeling skin from a sunburn, don't scrub it off. If it has been a beach day, skip the exfoliating, as your skin will be more sensitive. Sticking to lukewarm water and a gentle cleanser in the shower is great. If you overdid it a bit, try a lukewarm bath with Aveeno Soothing Powder. If you got red or pink, add a calming lotion such as Aloe Vera gel; one percent hydrocortisone cream, which you can get over the counter at the drug store; or an eczema-type body lotion such as Aveeno, Eucerin, or Cetaphil Eczema Relief products to help restore the barrier.
If you use self-tanner—which I highly recommend for anyone who wants a golden glow during the summer—try this routine: In the morning, a gentle dry brush followed by an alpha hydroxy–based lotion, such as Eucerin Plus, AmLactin, Glycolix, or Environ, helps to keep your tan more even. At night, gently scrub in the shower and follow with your self-tanning product. I suggest buildable products that you use daily until you have the tan you want, then maintain two to three times per week. Jergens, St. Tropez, Sublime, and Clarins are all great.
What are your favorite products for the body?
For bodywash, try Olay, Dove, Jo Malone, and Ritual. For acne, Neutrogena Body Clear, Oxy Daily Defense, and Pan Oxyl Bar. To exfoliate, I like Clarasonic, Fresh Sugar Scrub, Bliss, Alba Botanical, Olay Spin Brush, and Korean scrub mitts. And for lotion, coconut oil, Aveeno Calming, and Bliss Body Butter.
Do you recommend detoxifying bath salts to keep skin free of toxins and impurities?
There is not a lot of great "science" available on detox baths. However, salt baths can help to ease sore muscles, and the high concentrations of minerals help to decrease inflammation in the skin. Adding some essential oils can also add benefits depending upon the oils chosen. DoTerra makes great essential oils, and San Francisco Salt Co. makes a wide variety of Dead Sea salts and other salt soaks.
What do you recommend for someone with cellulite before a beach day outing?
So, in the ideal world, this is something you work on from several layers. Stay as lean as possible by eating healthy and exercising regularly. The thinner the layer of fat under the skin, the better the cellulite will appear. You can also improve the appearance of cellulite with treatments at your doctor's office, such as Thermage or Forma, which are RF-based and require no downtime. For those who want a head start on next year, there are also more aggressive treatments, such as subscision, Cellfina, Cellulaze, BodyTite, and RF microneedling, which can give you more results, but also require some downtime.
Using self-tanning products can also make the dimples appear less apparent. Don't go crazy—darker does not mean more improvement, but a light "tan" can help. Be aware that a real tan will, long-term, make your cellulite worse, as it breaks down the collagen and elastin in the skin, increasing cellulite over time. Firming lotions and creams can also be a temporary improvement, and you can add them into your routine to help.
Let's discuss varicose veins while we are at it. What treatment is most effective for someone wanting to diminish their appearance before a summer getaway?
Leg veins are also best taken care of a bit before you need leg exposure. Sclerotherapy is still the gold standard of treatment and may require one or more treatments to get the best results. It does cause some bruising, so it is important to keep treated areas out of the sun for at least two weeks. Lasers can be used to treat vessels as well, but also require several treatments. If you have thick winding veins, a vascular surgeon may be needed to take them out or to close them with a laser put inside the vein. And, if in a rush, self-tanner is a great way to camouflage them as well.
When it comes to our faces, we know a hat and sunscreen are paramount to keeping skin spot-free, but is there something to apply day and night to keep brown spots even more minimal?
Using a daily moisturizer with a high SPF is a great way to keep your face in good shape. Adding topical antioxidants in the morning also helps to keep your skin protected. Removing brown spots during the summer is difficult due to the elevated UV index, so working to keep them at bay is what I typically recommend. For those who need aggressive treatment, my favorite plan is a morning program of a gentle cleanser, Skinceuticals Phloretin CF Gel, Skinceuticals Discoloration Defense, and Karyng SPF 50, which is a moisturizer, physical SPF, anti-aging treatment, and primer all in one; and an evening program of the same, but with a good anti-aging night cream instead of the morning SPF. If you need a less rigorous routine, try the Phloretin CF in the morning and the Discoloration Defense in the evening.
What treatments do you recommend your patients implement into their skincare at the end of summer?
Typically, October is when I tell patients to start aggressively treating their summer-induced discoloration. Start with increased skincare products and add hydroquinone for a short period of time to really work on the pigmentation. Depending upon the person's skin type, the extent of damage, and the time he or she wants to invest, there are a lot of options to help clear up the skin. Light peels and microderms can increase exfoliation and improve the performance of bleaches. Heavier peels, such as cosmelan, can also lift some of the offensive discoloration. Light lasers can also help to remove some of pigment. More severe damage can be treated with fractionated lasers such as Fraxel or Active FX.
Related: Everything You've Ever Wanted to Ask a Top New York Dermatologist About Lasers