The Wellness Secret Gwyneth Paltrow Has Sworn By Since She Was 22 Is Annoyingly Simple, Obviously
Gwyneth Paltrow expands her Goop line into body care with this earth-shattering revelation.
---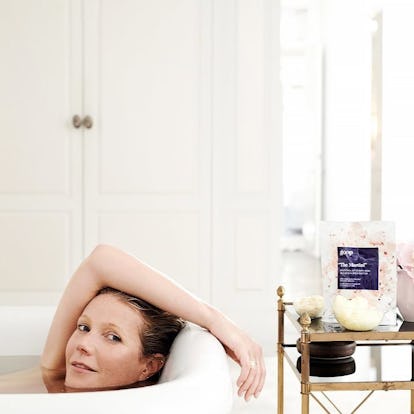 @gwynethpaltrow
Probably even more so than her former acting career these days, Gwyneth Paltrow is famous for her unique and delightfully outlandish approach when it comes to all things health and wellness. And her dominance in that field is only growing. Only a few short days before her highly anticipated Goop summit in New York City, the lifestyle brand's founder is now expanding her line of organic skincare, fragrances, and supplements into body care with a new bath salts collection.
In an interview with People, Paltrow explains a wellness trick she has been practicing for over 20 years. "I take a bath every single night—unless I'm somewhere where there is no bathtub," Paltrow revealed, continued to add,"I started getting really into taking baths when I was probably 22 years old and did my first movie in London. It's such a kind of damp cold there, a bath is the only thing that gets the cold out your bones. So, I started taking baths every night—and then I came home and I just never stopped."
I mean, not really a groundbreaking shortcut to looking like Gwyneth. But it's a handy backstory when you're launching a line of bath salts, formulated with her own Goop-y blend of essentials and botanical oils, salts and minerals. Let Paltrow, who also recently got engaged, explain her blessed life even further: "Over the course of time, from going to various countries where they use different oils, salts, and other ingredients in baths, I got really interested in the therapeutic part of it, and wanted to create a bath line that really answered the needs of the modern person and that would kind of bring those incredible elements of nature into your bathtub."
But really, the takeaway is this: Treat yourself to a hot bath when you get home. It's really nice. Even minus the "incredible elements of nature."