Gwyneth Paltrow's Goop Summit Is Coming to New York, Complete With Magnetic Acupressure And a Panel On Consciousness
Goop founder Gwyneth Paltrow is bringing her health and wellness summit to New York City.
---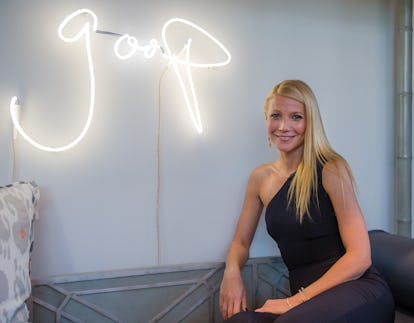 Getty.
East Coast Goop fans rejoice – wellness guru and lifestyle brand founder, Gwyneth Paltrow, is bringing "In goop Health," her very own health and wellness summit to New York City. Today, the actress and Goop founder announced that the second happening of the event will occur early next year, on January 27th, with a day long summit that will touch upon all things beauty, health and wellness.
Joining the actress at the festivities will be Drew Barrymore, Chelsea Handler, Meg Ryan, Laura Linney, and Bryce Dallas Howard, the latter of whom will be moderating a panel set to address "the hard problem of consciousness." But that's not all—other panels announced will address topics such as hormones and diet, love and relationships and mental health.
Those willing to splurge to spend the day with Paltrow and friends (last year's tickets ranged from $500-$1,500), will also have plenty of Goop-approved activities beyond the panels. There are rejuvenating spa experiences like ayurvedic treatments, magnetic acupressure, sensory sound meditation bars, and oil essence bars, as well as tarot card readings and classes with top health and fitness experts. Food-wise, expect "health-driven options" from New York City restaurants.
The 2018 event follows on the tails of a highly successful, sold out inaugural summit back in June that hosted in Los Angeles. There, the actress who was joined alongside actresses Cameron Diaz and Nicole Richie, designer Tory Burch, and supermodel Miranda Kerr, who made headlines for her ultra extravagant recommendations that included leech therapy, aura photography and of course, crystals. And while Paltrow has been known in the past for her at times highly unconventional and outlandish lifestyle advice, the actress, who recently launched her first edition of Goop magazine in September, has garnered quite the cult-like following to her unique approach on health and wellness.
So, if you are one of the many, many Goop-believers, get your crystals ready.
Related: Gwyneth Paltrow's Landmark Moment: The Goop Fast Food Guide is Here
[#article: /articles/59e1adc4ee32f97c78ecaf34]||||||