Are Beyoncé and Jay-Z Actually Going on Tour Together?
Is On the Run 2 actually happening—and are we finally going to hear their mythic joint album?
---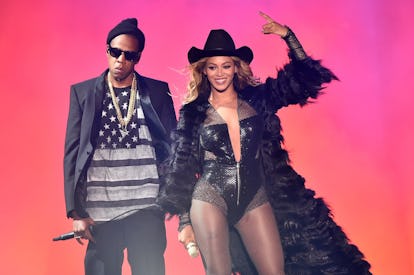 Larry Busacca/PW/WireImage/Getty Images
Leave it to Beyoncé and Jay-Z to, less than 12 hours after the Academy Awards ended, dominate the news cycle with a bang: Time seemed to come to a halt for the Beyhive when news broke that, all of the sudden, tickets had been listed for On the Run 2, a continuation of the couple's joint tour On the Run back in 2014.
Unfortunately, though, their demonstration of their control over the news cycle didn't stop there; within minutes, the tour dates had disappeared from both Ticketmaster and Facebook. (In case you're doubting anyone would be that cruel, Complex managed to grab a screenshot while they were still up on Beyoncé Facebook page, which you can see below.)
We don't know if the posting was a mistake, but we do know that Beyoncé loves a surprise. We also know that, given the facts, it's been increasingly looking like the pair will have a musical reunion, whether on tour or on a record—or even on both. After all, in the same interview which saw Jay-Z admit to the New York Times that he'd cheated on his wife, he also dropped the news that they were actually working on an album together. (Before, of course,Beyoncé decided to step away and make Lemonade—quite wisely so, seeing as it won her both a Peabody Award and revenge.
Jay-Z, for his part, put out 4:44, a critically acclaimed album that ended up serving as his apologetic response to Beyoncé, as well as to the rest of the women in his life. Now that both albums are out—meaning they've had some time between the "very, very uncomfortable" period that Jay-Z last described in November, as well as once again proven themselves quite accomplished musicians—it would in fact make sense for them to take another stab at making that album together. As Jay-Z put it to Times about their collab pre-Lemonade collabs: "Um, we still have a lot of that music," meaning it's definitely possible it'll eventually see the light of day.
Behind the Scenes of Beyoncé W Cover Shoot:
That may come sooner than later, if you consider not only the concert teaser, but also that it's that it's time of year again—aka two or three years after Beyoncé's last album, a period of time she's kept up as a cycle between albums since Dangerously in Love back in 2003. Plus, they've already started working together once again in the public eye: Jay-Z's song "Family Feud," which featured Beyoncé, also featured her in its video, which was released just before 2017 came to an end. We shouldn't get our hopes up too high, but since Blue Ivy starred alongside them and even did a bit of rapping on 4:44, it's not entirely out of the question that she could be joining the family on the maybe-upcoming album, too.
Related: Beyoncé Was Working on a Joint Album with Jay-Z When She Decided to Step Away and Make Lemonade