Beyoncé Is Once Again Pregnant, If the Beyhive Is to Be Believed
Her worldwide tour with Jay-Z has fans running wild with the idea that another BeyBey could be on its way.
---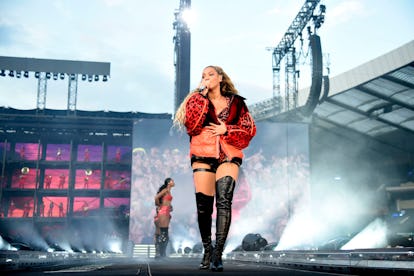 Kevin Mazur/Getty Images
Just a week after we finally got a glimpse of Beyoncé and Jay-Z's now 11-month-old twins, Rumi and Sir, rumors are now swirling that another BeyBey is in fact on its way. And while there's actually not much in the way of evidence that Beyoncé is indeed once again pregnant, the Beyhive is eating it all up, doing their best to find proof in grainy, zoomed-in photos of their queen to support the anonymous sources who seem to have started the rumors.
As The Cut notes, that apparently started all the way back in April at Coachella, where Beyoncé delivered not one, but two, awe-inducing performances. According to this week's print issue of Star magazine—or at least, a passage from it quoted on a celebrity gossip blog—"tipsters at Beyonce's concert tour caught Beyonce covering up what they suspect to be a baby bump." What's more, they also heard from an "insider" who claimed doctors were in fact with her at Coachella, adding that "several people heard them discussing her vitals after they gave her a quick checkup before she went onstage."
Beyoncé definitely didn't do much in the way of costume changes at Coachella, and now that she's on On the Run II, her worldwide stadium tour with her husband, she's reportedly been rushing to change her costumes so that they'll hide her (potentially nonexistent) baby bump. (Another "insider" told Star that "only a few have been entrusted with the news, but it doesn't take a genius to figure out what's going on.")
The real expert when it comes to Beyoncé rumors is, of course, the Beyhive, which now seems to have decided that these ones are true. Certain photos of her from the tour do suggest they're not making the wildest of assumptions:
As Beyoncé, who's known for controlling her image, would know, though, it of course all depends on the angle; in other photos, there's no bump to be found—only amazing material to distract you from even looking for it:
This latest instance of intense scrutiny of a woman's body has, of course, unfortunately brought along a bout of body-shaming with it—not to mention a quite potentially unnecessarily huge fuss over the ordinary fact that Beyoncé may (or may not!) have simply gained a bit of weight. Even some of those who think that she has have been pointing out that it's not necessarily related to pregnancy:
In any case, there's no shortage of her fans who are now, um, on the run with the idea. If the rumors are indeed true—something we'll likely find out whether Beyoncé likes it or not, as she's set to be onstage until October—at least it's confirmed that more amazing pregnancy fan art will also soon be on its way.
Related: The Beyhive's Beyoncé Pregnancy Fan Art is Frankly Amazing