Beyoncé's "Thiccsgiving" Wins All 2017 Celebrity Thanksgivings
That's one way to celebrate.
---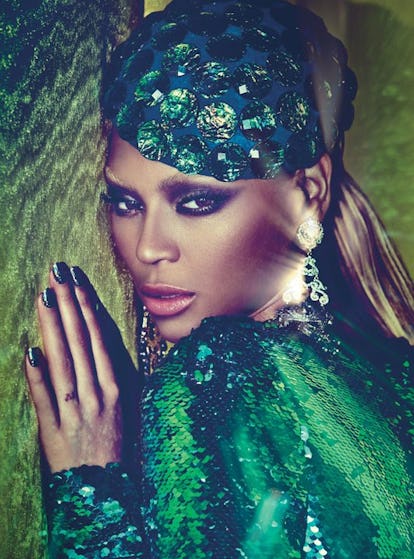 Thanksgiving, in general, is a pretty straightforward holiday when it comes to celebrations. There's a turkey, a bunch of side dishes, some version of family, and a parade with a bunch of inflatable balloons. Of course, when you are Beyoncé, convention just won't do. So, it seems that this year the singer created her own holiday: Thiccsgiving.
Bey took to her immaculately curated Instagram grid to debut the new occasion, posting a series of pictures of herself in front of a very festive metallic fringe background wearing a pair of skinny jeans, white turtleneck, and matching white wrap coat, paired with white sunglasses and some statement earrings. In one image, she swapped out the turtleneck for a novelty t-shirt with "Have a thicc holiday" written across the front—an offering from her seasonal holiday merch, now available for sale. And thus, Thiccsgiving was born.
Other, more mortal celebrities opted for a more traditional holiday. Cindy Crawford and Kaia Gerber each took their turns in the kitchen, with the former posting a cute family portrait on Instagram, while Bella Hadid took to the app to write a sweet message to her mom, Yolanda Hadid: "Thankful for this. My F—ing INCREDIBLE Family (sorry baba), our beautiful animals (esp Muku) Fresh Air, Good health, Love, Friends, FOOOD and a few days of just pure time to spend."
Gal Gadot showed off what the holiday is really all about—the food—posting a picture of a full plate of Thanksgiving staples, as Priyanka Chopra posted an outfit of the day picture, while modeling a pumpkin pie as the ultimate accessory. Emma Roberts and Evan Peters met up with their American Horror Story co-star Sarah Paulson for a star-studded, Ryan Murphy-fueled holiday dinner, and Jessica Biel captured her husband Justin Timberlake taking to a blowtorch to perfect his caramelized pie. Here, take a look at how the celebrity set stacked up to your own Thanksgiving festivities.
Related: Martha Stewart Talks Holiday Trends: Kissing Under the Mistletoe Is "In," Pumpkin Spice Lattes Are "Vehemently Out"
The Official Martha Stewart Holiday Handbook