Meet Billie Eilish, Pop's Terrifying 15-Year-Old Prodigy
"People are terrified of me, and I want them to be," she says.
Photographs by Sebastian Sabal-Bruce
---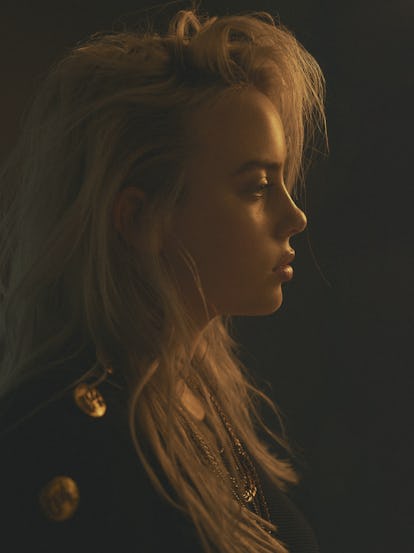 styled by Caroline Grosso. Produced by Biel Parklee. Hair by Bert Ketizerow for Kadus Professional at Artlist New York, Makeup by Morgane Martini for Chanel at The Wall Group. Photography Assistant: John Daniel Powers.
Like any good storyteller, Billie Eilish, the singer and songwriter behind last year's viral hit "Ocean Eyes," frequently writes from a fictional perspective. Take, for example, "Bellyache," her third single, in which she channels a remorseless murderer: "Sitting all alone, mouth full of gum, in the driveway," she sings. "My friends aren't far—in the back of my car lay their bodies." But of all the songs on her debut EP Don't Smile At Me, which came out Friday, it's "Copycat," the opening track and the one she described as "the most honest song I have," that is probably her favorite—and it's anything but fiction.
"Copycat" is a don't-eff-with-me opening statement for the 15-year-old singer; while the rest of the songs on the album are styled with lowercase titles like "watch," "party favor," and "bellyache," this title is all caps lock down: "COPYCAT." It sticks up a middle finger to peers she felt were emulating her style and behavior. "No one is original," she said of her hometown, Los Angeles.
"You committed, I'm your crime; you got your finger on the trigger but your trigger finger's mine," she sings. As the song reaches the bridge, Eilish takes a step back, seeming to play nice all of a sudden. "I would hate to see you go, hate to be the one that told you so," she sings, "I'm so sorry now you know, sorry I'm the one that told you so, sorry, sorry, I'm sorry, sorry…" Then: "Sike," she whispers in your ear.
It's a playfully confrontational moment from a musician who prides herself on being a little intimidating—just look at the title of her EP, Don't Smile At Me.
"People are terrified of me, and I want them to be," she said on the phone from L.A. last week. She was about to embark on a sold-out headlining tour that will take her across the country this fall. "Smiling makes me feel weak and not in control and not powerful and small," she added.
Eilish is signed with Interscope Records, where she is in conversation with both the label's well-known rap acts (Kendrick Lamar, Kamaiyah, Rae Sremmurd) as well as Selena Gomez and Carly Rae Jepsen. Her pop influences can be heard in her playful, word-association lyrics, and her precociousness has earned her comparisons to Lorde, but Eilish also said brought up influences like Tyler the Creator, in whose lyrics "everything is a reference to everything," shifted how she approached writing.
Eilish, born Billie Eilish Pirate Baird O'Connell, has been singing since she was "really, really little," she told me in January, after she played a private show in New York at Soho House. "I had to be shushed sometimes—I would always make noise, which I still do." She grew up listening to artists like the Beatles and Green Day, Marina and the Diamonds and Kesha, Lana Del Rey, and Justin Bieber, before she stumbled on Childish Gambino—who was the gateway to the hip-hop artists she now cites as her main influences. She and her brother were both homeschooled, allowing her to focus on music and dance (and, for a time, horseback riding); she entered the Los Angeles Children's Choir at eight, and, by 11, she was writing her own songs.
But for all her classical training—she also plays piano and ukulele—her music career as it exists now, four years after she started writing, happened almost by accident. It's a story she has now relayed countless times: Towards the end of 2015, her brother recruited her to sing vocals on a track he had just written—a track called "Ocean Eyes." At the same time, her dance teacher, who knew Eilish also made music, asked her to send him something to which he could compose choreography.
Eilish and Finneas spent a week recording the song—"We just sat in his room dancing to it," she recalled—and uploaded it to SoundCloud simply to have a shareable link for Eilish's dance teacher. Then the blog Hillydilly picked it up, and that led to Beats 1 tastemaker Zane Lowe voicing his support—and the track went viral.
"After a day, it had a thousand plays, and we were like, 'We made it,'" she said. "We didn't think it would go past that—we literally just thought it was because my popular friend reposted it." Nearly two years later, the original SoundCloud track has been removed, but "Ocean Eyes," now the penultimate track on Don't Smile At Me, has racked up more than 15 million streams on Spotify; it was recently included on the soundtrack for the Amandla Stenberg film Everything Everything. The sibling duo followed "Ocean Eyes" with "Six Feet Under," another song written and produced by Finneas with Eilish on vocals, but more recently, they have shared writing duties while Finneas remains the primary producer ("I always am sitting over his shoulder, like, 'Do this, do this, do this,'" Eilish said).
Most of the songs on Don't Smile At Me were made over a year and a half of writing, and the tracks aren't united by a narrative thread so much as an abstract interest in saying something new, or at least saying something familiar in a new way. Oh, and a lack of interest in writing love songs.
"You can write about literally anything. You don't have to go through something specific to write about it," Eilish said.
This philosophy has led her to write from the perspective of a serial killer, yes, but also, as in the case of a still-unreleased track, from the vantage of a boy she said she hurt. "It makes you realize the way that you act and the way people portray the way you are," she said. "People don't do that enough."
"Hostage," the last track on Don't Smile At Me, strikes this balance between human relatability and a bit of a psychotic edge. It begins sweetly, and mournfully, enough: "I want to be alone, alone with you, does that make sense?" she wonders, harmonizing with her brother. Then, in the same melancholy, lovelorn tone, she flips a switch so subtle you might miss it on first listen: "I want to steal your soul, and hide you in my treasure chest."
Inside W's augmented reality September issue, starring Katy Perry: