Björk's Surreal New Video Features an Extravagant Gucci Dress That Took 870 Hours to Make
Icelandic art-pop goddess Björk wears Gucci in her computer-generated fantasy world in the new video for "The Gate."
---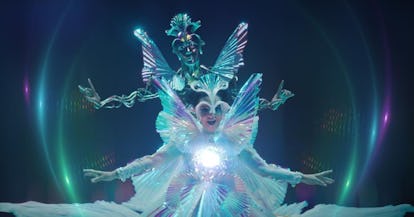 @andrewthomashuang
Two years ago, Björk chronicled the demise of her marriage to artist Matthew Barney with the devastating, groundbreaking album Vulnicura. While the record was a smaller one than her previous—in that it turned inwards, excavating her own feelings about the breakup, rather than casting outwards to politics and the environment and even the galaxies—it was accompanied by a fittingly ambitious video project, a traveling virtual-reality exhibition that touched down in Houston, in Montreal, in her native Iceland, and elsewhere.
Two years later, Björk is preparing to release her ninth studio album, Utopia—and the first sampling of the new record arrived in the form of a new single and video, "The Gate," which premiered at London Fashion Week over the weekend, and if it's any indicator, Björk's video experiments did not end at Vulnicura. "The Gate" is the result of a collaboration between director Andrew Thomas Huang—who directed several of the Vulnicura videos, as well as videos for Sigur Rós and Atoms for Peace—Björk's longtime face-mask designer James T. Merry, the producer Arca, and Gucci's Alessandro Michele. (She has worn Gucci in the past, but just as frequently, she opts for local Icelandic designers like Hildur Yeoman.)
The video opens with Björk nestled on a futuristic hilltop, conjuring floating celestial shapes—one of which is a pinched oblong, sort of like a computer-generated Georgia O'Keeffe (with its accompanying anatomical implications); the shape, which is presumably the titular "gate," appears throughout the video—with the trill of a flute. She wears a balletic, pastel-colored dress of soft tulle.
Then, the scene shifts and Björk seems to emerge from a kaleidoscopic orb that she tosses to a CGI reflection of herself. (A better analogue: Remember that early-'00s Windows screensaver "Ribbons"? Now Björk-ify it.) She wears an iridescent, pleated PVC dress whose color is perhaps best described as unicorn-toned; it drips with pearl and crystal embellishments woven into mesh panels and its shoulders cascade in wings. The look is the product of 870 hours by Alessandro Michele's design studio at Gucci: In a video released over the weekend accompanying the debut of "The Gate," Gucci unveiled the meticulous process that created the dress. It took a reported 550 hours, with an additional 320 hours for the embroidery; it comprises eight meters of PVC and another 20 of silk organza.
The musician was wary of the Gucci collaboration at first, she said during a question-and-answer session during the video's London premiere: "I'm not so good with these huge corporate statements and I don't like them so much," she said, referring to a partnership with big brands (Gucci is owned by the luxury conglomerate Kering) as "a bit tricksy." But, apparently, a dress so surreal it also looks like a computer-generated graphic can be quite convincing.
Last month, Björk described Utopia as her "Tinder album" in an interview with Dazed. That it might be, but in typical Björk style, there are no dating apps in sight. Instead, there's just an almost entirely computer-generated meditation on new love. "Didn't used to be so needy, just more broken than normal," she sings. "Proud self-sufficiency, my silhouette is oval: It is a gate." Only Björk would Tinder in priceless Gucci.
Jared Leto's Robert De Niro impression is, admittedly, flawless: