Can Blue Eye Shadow Really Make a Comeback? Kim Kardashian Seems to Think So
Today's blue shadow is bold and punchy—and nothing like that of the early aughts.
---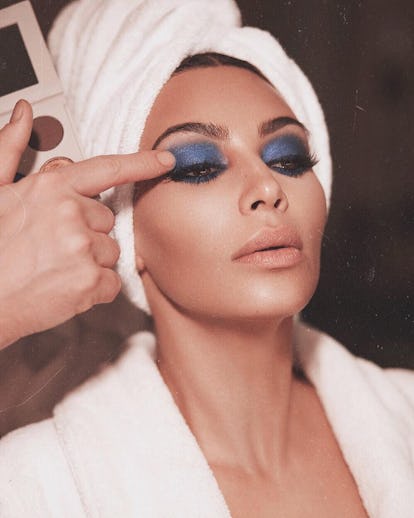 A themed dress code at a fancy dinner party attended by ultra-wealthy reality stars is hardly breaking news. There is at least one multi-episode arc centered around a Great Gatsby–themed soiree or the incredibly uninspired and ubiquitous "white party" on each season of The Real Housewives (city doesn't matter; it's going to happen). But Kim Kardashian is not your average reality star; she is the reality star.
So when Kardashian celebrated her latest entrepreneurial endeavor—a KKW Beauty collaboration with longtime friend and makeup artist Mario Dedivanovic—over the weekend with a dinner party, she included one very specific (and unexpected) sartorial mandate: All attendees must wear blue eye shadow. "Tonight @MakeupByMario & I are having a small dinner to celebrate our collab KKW X MARIO. Dress Code—wear a blue eye. Can't wait for our look tonight," she tweeted prior to the event. It was a nod to the collaboration's standout product—a cobalt blue eye shadow called Libra that is certainly a far cry from the typical nudes and taupes most closely associated with the Kardashian family's beauty arsenal.
The shade proved controversial with fans, and Kardashian was understanding. She even shared her own apprehension with the color on Twitter: "I would fight against color & one time when I was on my phone & not paying attention he did a blue eye & I freaked out but then looked in the mirror I loved it! We fight over which look we should do all the time but this blue eye reminds me the trust him lol 4-5," she wrote.
A general fear of blue eye shadow runs deep, even amongst avid makeup lovers. My first memories of the trend date back to when, as a tween (and an aspiring full-fledged teen), I purchased the instructional tome Bobbi Brown Teenage Beauty: Everything You Need to Look Pretty, Natural, Sexy & Awesome, the Limited Too generation's answer to Zen and the Art of Motorcycle Maintenance. The book covered everything from how to embrace your natural hair texture to making a DIY-tan from Vaseline and bronzer (spoiler: it doesn't really work). But the thing I remember striking me the most was the book's back cover, a close-up of a brunette donning frosty blue lids matched with a thick stroke of navy eyeliner. In 1999, this was the pinnacle of chic to me, and I tried endlessly to emulate the look using the until-then ignored shades of blue in my mom's Clinique compacts.
But Brown wasn't alone. This was the height of pop princess domination, and your stardom was directly correlated with the amount of shimmer and sheen on your eyelids. Do a quick images search of the year 2001, and it's all there: Britney Spears, Christina Aguilera, Jessica Simpson, Mandy Moore—they all dabbled in shades of periwinkle and azure. It was beyond a trend, it was ever-present; who would even think about getting in front of Carson Daly on TRL without letting him check his reflection in your eyelids.
But it's nearly two decades later, and TRL has both come and gone, and then come and gone again. And we're still left with the conundrum: Can blue eye shadow really make a full-fledged return? A cursory scroll through Instagram would indicate that, yes, in fact it can. After a period of ultra-bronzed and glow-y skin, and then super matte and contoured, the beauty world is swinging the pendulum back to color, with adventurous stars like Rowan Blanchard, Lupita Nyong'o, and even Moore, version 2.0, donning purples, reds, and pinks on their eyelids on the red carpet. And now, it seems that blue is having its moment once again. Even fashion designers have embraced the throwback look, with bright blue eyes appearing on the runway for brands including Chanel, Louis Vuitton, and Marni.
The key to making the shade work in 2018? Think less shimmer and more pigmented and matte. A lighter shade, in hues of sky blue, can make for a pretty springtime look when paired with a fresh face and subtly glossy lip. Or, for night, try out an inky midnight blue matched with plenty of mascara. It's what your inner tween would want.
Related: Britney Spears Just Landed a Major Fashion Campaign—Why Has It Taken This Long?