Why Boots Are the Best Fall Item to Buy Now, and Wear All Year Long
From Rihanna and Chloë Sevigny to Millie Bobby Brown and Kyle MacLachlan, boots are back.
---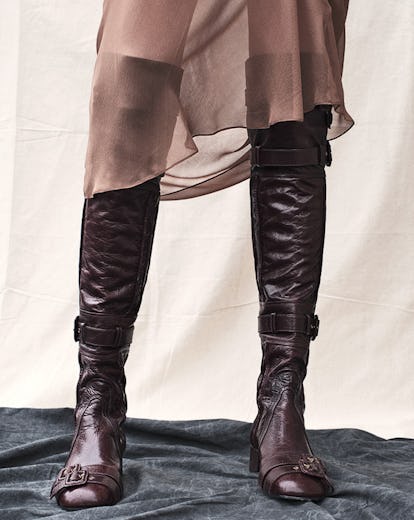 Photographs by Robert Nethery, Styled by Nora Milch; Manicure by Michina Koide for Chanel at Art Department; models: Anna Z at NY Models, Valery at Parts Models, Samara Oliveira at Major; photography assistant: Juan Carlos Zorilla; Fashion assistant: Devon Head
As we approach the transitional month of September, it's time to revisit Rihanna's style from March. It was during that seasonally sensitive month that the musician and fashion designer stepped out in a daring pair of glittery slouchy boots straight off the Saint Laurent runway, where they'd just made a polarizing debut.
As usual, Rihanna was onto something. (And not just because she paired them with the unbeatable combo of an oversized leather biker jacket and a Patti Smith shirt by Raf Simons.) The fashion industry is now more obsessed with the early '00s than ever, and, as another seasonal change approaches, there seems to be no better technique to sneakily update your wardrobe than simply pairing a dress—or shorts, skirt, whatever you please—with a pair of boots.
Of course, those shoes don't necessarily have to reach thigh-high levels—though as Britney Spears showcased earlier this week, if you're looking to give people something to talk about, those'll definitely be effective—or paired with short shorts, as Kate Moss has long been known to do at Glastonbury, and wise aspiring Angels wore to the Victoria's Secret fashion show castings this week. Take, for example, Alexa Chung's approach: While the British It girl is never one to shy from a thigh-skimming dress, she's also been equally known to pair said dress—or jorts, or romper, or jeans—with a pair of boots, ranging from lace-ups to plain old Chelseas. (It's only a matter of time before that approach turns up in her new fashion line, too.)
And, other than the fact that she's a well known street style arbiter, you know Chung's really onto something when the pairing has not only long been a favorite of the coolest girl in town for 20 years, Chloë Sevigny, on both the red carpet and the street, but has also become a newfound signature move of one of Hollywood's most stylish emerging starlets, Millie Bobby Brown, who recently showed up to the MTV Movie and TV Awards in a long-sleeved dress and cowboy boots.
Her look may have seemed bold at the time, but it's already looking like, comparatively, Brown was actually playing it safe: Cowboy boots are nothing compared to what may next be the next coolest boots in town. Thanks to Kyle MacLachlan and Kim Gordon, of all people, as well as Chung herself, Uggs are now once again having a moment—and once again proving that all things come back to Rihanna. It was RiRi, after all, who earlier this year also called it that back-to-school looks—yes, including hoodies, logo tees, and more of your former lazy trappings of rolling out of bed and into middle and high school—would soon be cool year-round, too.
See How to Wear Thigh High Boots with Dresses, like Victoria Beckham and Elle Fanning
Elle Fanning attends the Kia Supper Suite Hosts World Premiere Party For "Sidney Hall" on January 23, 2017 in Park City, Utah.

Getty
Cate Blanchett during "Veronica Guerin" Los Angeles Premiere at The Bruin Theatre in Westwood, California, United States.

Getty
Diane Kruger attends the Chanel Spring/Summer 2013 Haute-Couture show as part of Paris Fashion Week at Grand Palais on January 22, 2013 in Paris, France.

Getty
Catherine, Duchess of Cambridge visits a community garden project at Elswick Park on October 10, 2012 in Newcastle upon Tyne, England.

Getty
Cindy Crawford attends the "The Hospital In The Sky" New York special screening at New York Historical Society on February 5, 2015 in New York City.

Getty
Hailee Steinfeld attends the Christian Dior show as part of the Paris Fashion Week Womenswear Fall/Winter 2015/2016 on March 6, 2015 in Paris, France.

Getty
Jaime King arrives at the premiere of The Orchard's "DIOR & I" at LACMA on April 15, 2015 in Los Angeles, California. (

Getty
Chloe Sevigny attends the "Bloodline" Series New York Premiere at SVA Theater on March 3, 2015 in New York City.

Getty
Olivia Wilde attends the Shorts Program World Premiere her film "Body Team 12" during the 2015 Tribeca Film Festival at Regal Battery Park 11 on April 19, 2015 in New York City.

Getty
Jessica Alba attends the Giambattista Valli show as part of Paris Fashion Week Haute Couture Fall/Winter 2015/2016 on July 6, 2015 in Paris, France.

Getty
Kylie Jenner is seen walking in Midtown February 9, 2016 in New York City.

Getty
Victoria Beckham is seen visiting her showroom on December 8, 2015 in New York City.

Getty
Alexa Chung attend as mytheresa.com and Burberry celebrate the new MYT Woman at Thomas's on February 21, 2016 in London, England.

Getty
Dakota Johnson is seen walking in Midtown on January 21, 2016 in New York City.

Getty
Kate Bosworth attends the Altuzarra Fall 2016 fashion show during New York Fashion Week at Spring Studios on February 13, 2016 in New York City.

Getty
Rosie Huntington-Whiteley attends the Ralph Lauren fashion show during New York Fashion Week: The Shows at Skylight Clarkson Sq on September 14, 2016 in New York City.

Getty
Marion Cotillard attends the 2016 Guggenheim International Pre-Party made possible by Dior at Solomon R. Guggenheim Museum on November 16, 2016 in New York City.

Getty
Ciara attends the Lanvin show as part of the Paris Fashion Week Womenswear Fall/Winter 2016/2017 on March 3, 2016 in Paris, France.

Getty
Naomi Campbell attends the 2017 FOX All-Star Party at Langham Hotel on January 11, 2017 in Pasadena, California.

Getty
Alessandra Ambrosio seen wearing Moschino jacket, Greta Constantine skirt, Wolford bodysuit, Le Silla boots, Hermes bag in the streets of Paris on November 28, 2016 in Paris, France.

Getty
Gwen Stefani is seen heading to an office building in Midtown on April 1, 2016 in New York City.

Getty
Kate Hudson seen out in Manhattan on March 30, 2017 in New York, NY.

Getty
Hailey Baldwin arrives at the Daily Front Row's 3rd Annual Fashion Los Angeles Awards at the Sunset Tower Hotel on April 2, 2017 in West Hollywood, California.

Getty
Charlize Theron attends 'The Fate Of The Furious' New York premiere at Radio City Music Hall on April 8, 2017 in New York City.

Getty
Related: Back to School Style Is Now Cool Year-Round—and Rihanna-Approved
Paris Hilton Breaks Down Her 13 Favorite 2000s Trends, and Why They're Still Hot: