Brooklyn Beckham and YouTube Star Lexy Panterra Are Reportedly "Definitely Together"
The pair have already shown up on each other's Insta feeds.
---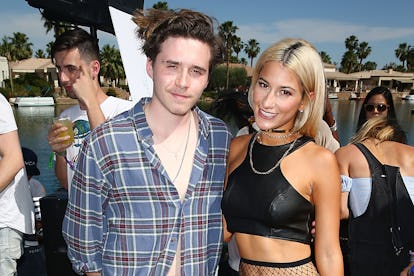 Joe Scarnici/Getty Images
Brooklyn Beckham—college student, photographer, breaker of hearts—is reportedly seeing someone new. Mere months after he and on-again, off-again ex Chloë Grace Moretz exchanged their final adorable Instagram posts, Beckham is reportedly now dating singer, dancer, and YouTube personality Lexy Panterra, according to People. "They are definitely together," an unnamed insider said of the duo. "They've been dating for a little while now."
Another anonymous source also confirmed the romance to Us Weekly this week, telling the outlet that the pair are "very smitten with each other" and "talk every day."
Beckham, 19, and Panterra, 29, were first spotted together at an event in La Quinta, California, in April. Since then, each has appeared on the other's Instagram feed a handful of times: At the end of April, Beckham posted a photo of Panterra balancing upside-down on her elbows, writing, "@lexypanterra. Confusing init…" as well as a few dramatic, caption-less, black-and-white shots of Panterra in profile. For her part, not only did Panterra repost those shots, but earlier this week, she also shared a few photos and videos from a night out in London with Beckham, captioned, "A perfect night ??? #SoGood."
Prior to his rendezvous with Panterra, Beckham was seen getting cozy with Playboy model Lexi Wood at a tattoo parlor in Los Angeles, in early April. Before that, Beckham reunited with Moretz in November 2017, about a year after their last breakup. After a very public few months together, however, Beckham and Moretz's last loved-up posts about each other came in February and March, respectively, in honor of each other's birthdays. By the time April rolled around, as rumors began flying about Beckham and Wood, Moretz appeared to throw a healthy dose of shade at her ex when she was found to have liked a photo posted by a fan account in which she gives the photographer the finger, which the account captioned, "Greetings to Brooklyn Beckham from me motherf—er." Ah, young love!
Related: Brooklyn Beckham: Budding Photographer
Brooklyn Beckham: Budding Photographer