Chloë Grace Moretz Opens Up About Her "Hard Year" Apart From Brooklyn Beckham
"I went through a hard year and I'm not going to hide that."
---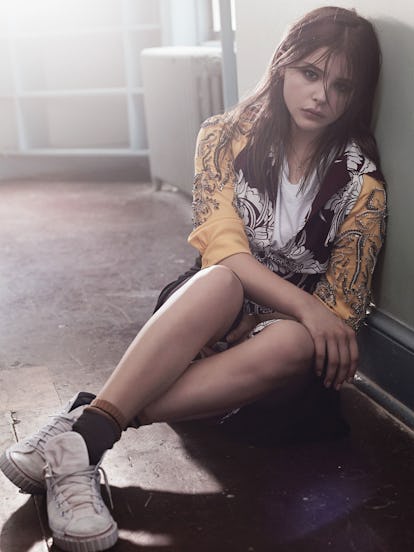 Chloë Grace Moretz and Brooklyn Beckham are current living through the second greatest Transatlantic love sagas of our time (only bested by Harry and Meghan, of course). The American and British pair, who first started dating in 2014, have broken up twice — most recently last September in 2016, and, now, Moretz has finally opened up about that time.
Despite being somewhat used to life in the public eye, Moretz and Beckham's second breakup was as difficult as any other. "I went through a hard year and I'm not going to hide that," Moretz told Australian magazine Stellar, as The Telegraph notes. "I had to deal with this new level of fame while I was growing up, I was getting out of a relationship and all of it was very public. I wanted to hide."
Moretz realized though that hiding would be impossible for her, not just because she was at work at films like Brain on Fire, Neighbors 2: Sorority Rising, and The 5th Wave, but also because she couldn't ignore her pain forever. "They were like, 'That's all great that you want to go away—but you can't. You are your own person," she said. "You're going to have to deal with this sort of thing.' I felt like things were falling apart, like my head and heart weren't in the same place. Things started to change when I realized I have the power within to change them."
She wasn't the only one making changes though: Less than a year later, Beckham — who had she had been in a long-distance transatlantic relationship with — moved to the States to study photography at Parsons School of Design. Shortly after, Moretz left a trail of comments on Beckham's photos on Instagram, prompting some to speculate that the couple had reunited before they officially confirmed it on — where else? — Instagram. The couple proudly displayed their smiles and PDA in a series of social media posts from a reunion in Ireland where they took in a rugby match and clinked glasses full of Guinness. "Dublin. You were amazing," Beckham wrote in the caption of a selfie he posted.
Just last month, the pair posted another loving photo on Instagram with an adorable use of emoji: "??+??=❤️"
Related: Chloë Grace Moretz Says She Was Body-Shamed by Male Costar
The Red Carpet Evolution of Chloë Grace Moretz's All-American Beauty
Chloë Grace Moretz is all smiles at the Charlotte's Web Los Angeles premiere, wearing her golden blonde curls with a chic beret.

Getty.
Attending the 2008 Los Angeles Film Festival, Moretz arrives fresh faced with perfectly blown out locks.

Getty.
At the Los Angeles premiere of (500) Days Of Summer, Moretz pairs her tousled curls with a glossy, natural lip.

Getty.
Debuting a chin-grazing bob with a hint of blush on the cheekbones, Moretz arrives at the British Academy Children's Awards in 2010.

Getty.
Wearing her hair in a tousled up do with loose curls framing her face, Moretz arrives at the Hugo film premiere in 2011.

Getty.
Moretz arrives as a dark brunette wearing her newly dyed locks in a toulsed up do at the Fox Teen Choice Awards in 2013.

Getty.
Opting for a messy top knot and dark smokey eye, Moretz attends the Laggies premiere afterparty in 2014.

Getty.
At the 2014 Costume Institute Gala, Moretz wears a sleek half up do with tousled curls and a charcoal grey smokey eye.

Getty.
Shoulder length tousled waves with a dark smokey cat eye was the look at the iHeartRadio Jingle Ball in 2015.

Getty.
Moretz keeps her look clean and simple at the 2015 Costume Institute Gala with a middle parted low pony.

Getty.
Moretz radiates with luminous skin and a polished copper smokey eye at the 87th Annual Academy Awards.

Getty.
Channeling rocker chic hair with a matte mauve lip, Moretz attends the TrevorLIVE Los Angeles 2016 fundraiser.

Getty.
Wearing regal curls with a frosted smokey eye, Moretz arrives at the 2016 Costume Institute Gala.

Getty.
Arriving at The 5th Wave photocall, Moretz wears her hair in a simple up with a bold, fuchsia lip.

Getty.
Wearing her wet waves in a sleek and twisted up do with frosted blue eyeliner, Moretz attends the Coach 1941 Women's Spring 2017 show.

Getty.