David Beckham Bursts Into Tears When Son Brooklyn Surprises Him on His Birthday
The 19-year-old flew back to London from NYC for the big day.
---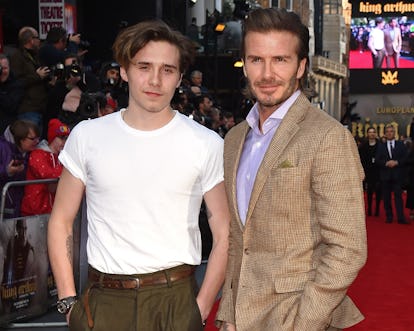 Dave Benett/WireImage/Getty Images
It didn't take long for one of David Beckham's birthday wishes to come true. On Wednesday, the soccer star's 43rd birthday, he was enjoying a celebratory meal with his family in London when son Brooklyn Beckham, who has been studying abroad at New York University amongst other American adventures, came waltzing through the door. As seen in the video of the surprise posted on Instagram by both David and wife Victoria Beckham, some tears, hugs, and a bit of laughter ensued.
Apparently, Brooklyn's arrival was a surprise for most of the rest of the family as well, since his 6-year-old sister Harper can be heard in the background saying, "I didn't know Brooklyn was coming!"
"Best birthday surprise , my big boy coming home," Beckham wrote on Instagram, while Victoria captioned her own version of the video, "The biggest surprise of the day…. Welcome home @brooklynbeckham X happy birthday @davidbeckham I love u so much x kisses." Brooklyn uploaded a behind-the-scenes clip of him sneaking into the restaurant on his Instagram Story, then posted a selfie later on Wednesday of him and his dad sharing a bottle of wine. "Happy birthday dad xx I love you to the moon and back ❤️," he wrote.
Victoria and David Beckham have expressed time and again their love for their tight-knit family. Last summer, in an interview with Vogue Netherlands, the artist formerly known as Posh Spice explained that she's nowhere near as unhappy as her oft-photographed frown might have you think—primarily due to her husband and their four children. "David and I have a lot of fun together," she said at the time. "If I really was as miserable as I look in some of those paparazzi pictures, my children wouldn't be as happy as they are. And I certainly wouldn't be married anymore."
Related: Harper Beckham, 6, Just Gave Victoria and David Beckham the Makeovers of Their Lifetime
A Celebration of Victoria Beckham's Signature Beauty Through the Years
Beckham wears her brunette pixie with tousled bags and a light contour on the cheekbones with a nude glossy lip at the Spice Girls launch book "Forever Spice" event in London. (1999)

Photo by Getty.
Wearing her hair swept over in voluminous, tousled waves with a nude glossy lip, Beckham attends the Elle Style Awards in London. (2000)

Photo by Getty.
Beckham wears her tousled, highlighted locks in a loose, half up with with luminous skin at the Rock & Republic Spring 2005 fashion show.

Photo by Getty.
Beckham goes blonde with an ultra sleek pixie cut paired with a taupe smoky eye at the Graduate Fashion Week photo call. (2007)

Photo by Getty.
Beckham returns to her brunette locks wearing an asymmetrical bob with a brown smoky eye and a nude glossy lip. (2007)

Mike Marsland
Wearing her sleek pixie cut with an exaggerated dark smoky eye, Beckham arrives at the 17th Annual Elton John Aids Foundation Party. (2009)

Photo by Getty.
At the British Fashion Awards in 2010, Beckham wears a naturally tousled up do with a taupe smoky eye and a luminous skin.

Photo by Getty.
Victoria Beckham looked sleek with lots of black eyeliner and a teased up do at the British Fashion Awards 2011.

Photo by Getty.
Beckham let pieces loose out of a slightly voluminous pony tail at the Vanity Fair and Chrysler celebration of The Eva Longoria Foundation. (2013)

Photo by Getty.
Attending the 5th Global Gift Gala, Beckham wears her shiny, polished curls side-parted with a dark taupe eyeshadow and a matte nude lip.

Photo by Getty.
Attending the British Fashion Awards in 2015, Beckham wears an elegant up do with loose pieces framing her face, full brows and a grey smoky eye.

Photo by Getty.
Wearing her asymmetrical, long bob in tousled curls with a dark grey smokey eye, the fashion designer attends the launch of "Vogue: Voice Of A Century"book event. (2017)

Photo by Getty.