How French It Girl Camille Charrière Tackles Winter Style, On and Off the Slopes
The fashion blogger and street style star has some very practical tips.
---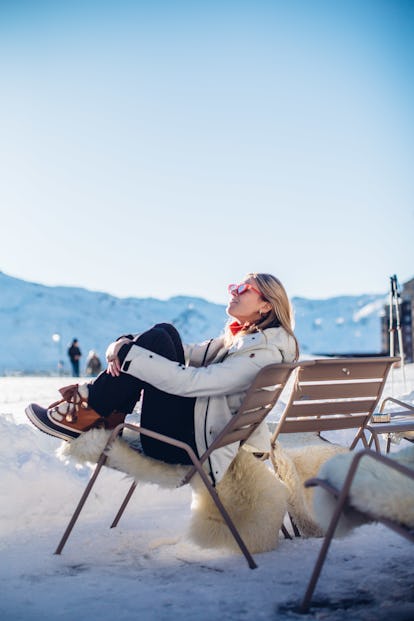 You may not know blogger Camille Charrière by name yet, but you have probably seen her effortless, perfectly undone style on countless fashion week street style blogs, all over Instagram, and most recently in the pages of Vogue Paris. The London-based, half-French, half-English former lawyer launched her personal style blog Camille Over the Rainbow in 2010 and now boasts over half a million Instagram followers. She also co-hosts a substantial yet light-hearted (and popular) podcast with friend Monica Ainley, dubbed Fashion No Filter. As a part of their sustainability episode, which will be released this week, the duo designed a capsule of chic, eco-friendly suits using deadstock fabric with Admise Paris.
In the rare moment where she's not busy with her projects or whipping up witty, irreverent, pun-filled Instagram captions, Charrière makes time to unwind, as she did this past week on a ski trip with Net-A-Porter in the charming resort town of Megève, France. "It took us an hour to get back into it," she admitted, referring to ski buddy and fellow Frenchie, model Constance Jablonski. "But being able to ski on the slopes at the opening of the season when there's no one there was amazing. By the end of the day we didn't want to stop so that's such a good feeling!"
Of course, Charrière is a good skier (she was born in the French Pyrenees, after all), and she could probably teach us a thing or two on the slopes. However, the two most important pieces of ski-related wisdom she could impart to her fellow first-time skiers? "Even if with the rest of your look, you want to make a bit of an effort, just make sure that your shoes are bang-on. The minute your feet get cold, your day will be miserable!" she said.
"Also," she added, "Avoid make-up as much as possible. When you're skiing and when you're in the cold, your eyes are going to water, so there is no point." Said like a true professional, or at least a practical-minded influencer whose true-to-life, effortless personal style has won her legions of fans. For more of Camille Charrière's winter weather style and beauty tips, tricks, and habits, read on.
Three words that describe your style: Timeless, chic, easy.
Daily uniform: Denim and either a really nice knit or t-shirt and a blazer, and really comfy shoes.
Who or what you look to for style inspiration: Instagram obviously has now become a big source of inspiration, but I think if you spend too much time on Instagram you end up sort of gravitating towards things that don't really work for you and your surroundings. We obviously all live in different places —the weather's not the same, and in London it rains a lot, it's cold, the colors don't pop in the same way. I think it's good to remember that you have to adapt your style to where you are, so I think I get most of my inspiration from the street from the people around me.
Best styling tip: I think most clothes don't look good unless you're really worn them enough times. And I really don't like when things look straight out of the box, box-fresh. I think it's important that they look a little bit used and a little bit worn, that you've made them your own.
Favorite piece in your closet right now: I have an amazing blazer from the brand Blazé Milano, which is just super beautiful, that I love. I recently got a pair of jeans by The Row which was the most decadent thing ever because they are the most expensive thing ever, but they look like old vintage Levi's. I never allow myself to buy new jeans but I saw them, and I have not regretted it at all. People actually stop me on the street to ask me where they're from, because the denim is so thick, like old-school jeans. And nobody makes jeans like that anymore.
Best ski holiday fashion advice: The main thing is to not let your feet get cold. I think when I'm anywhere in the mountains functional shoes are my main concern. I don't care that they look a bit chunky, just proper big Moon Boots. Make sure they are super waterproof, because the minute your feet get cold, your day will be miserable.
Best cold weather beauty tip: I sleep with a mask in my hair sometimes when I'm in the cold because it's dyed and it breaks really easily. But other than that, I think try and avoid make-up as much as possible. When you're skiing and when you're in the cold, you're eyes are going to water, so there is no point in wearing make-up. Instead of that, just put some really nice moisturizer or maybe tinted moisturizer with SPF because you hopefully are going to get a bit of a tan.
Most underrated beauty product in your medicine cabinet: A pot of Vaseline. Everything is going to be cracking in the winter, especially lips, so just make sure than you're looking after all of that. I think the travel-sized Vaseline pots are the best, and I like the fact that there's no color or tint in them.
On and Off the Peaks: This Is Your One-Stop Shop for Winter's Chicest Ski Style
Favorite song to get dressed to: I listen to the same music at the moment to be honest, when I wake up in the morning I listen to the opera: Puccini, or Verde, Madame Butterfly. But If I'm trying to speed up it will be something like Janet Jackson's "Together Forever." A really silly song that is going to make you bounce around the room.
Favorite place to shop: I actually quite like going to department stores, breezing around and popping into Céline, Balenciaga, Off-White, Jacquemus. I like being able to check the rack of things you've seen on Instagram or off the runway. You need to try them on, look at fabrics, touch the garments. I often don't spend money then, I like to think about things, and probably buy it online. But I go and look at things first, I'm still that person.
England or France: I think I was more experimental before I moved to London. I like to push boundaries, and in France it was almost kind of rebellious to do so. Whereas in London people don't care, so I feel more like it doesn't really matter. It's funny because I think since moving to London I've become more French rather than less. It's because that's what I feel comfortable in, not that I'm trying to make a point of it, really. It's interesting but I think that's also because I've gotten a bit older, and I've grown into my style a little bit more, and I'm less worried about standing out in a room. I allow myself to be myself now, so it's nice.
Something you would never wear All the super-cut out pieces. I really don't like it. It's just too sexy, it's just not nice. It's a shame that it's such a huge trend, because it doesn't suit everybody but everybody is determined to wear that.
Winter wacation read: I'm re-reading Francois Sagan's Bonjour Tristesse. I don't know why, someone left it at my house and I was like, Ok, I haven't read this in five years, I'm going to look at this. And right before that I read Sapiens: A Brief History of Humankind, which I think everybody has read, but I really recommend it if you haven't.
Plans for the holidays: For Christmas, I'm heading back to Paris to see my family. We have a Christmas tradition: we head to the opera of the ballet on Christmas Day. Being home in France for Christmas means great food and really nice traditions. From the minute it's the 1st of December, there is Christmas music on full volume blasting through the house. My mum takes Christmas super seriously, and there's four of us and we're all quite loud, so it can get a little intense. My dad is always trying to turn it off but it never works!
And I'm taking off for Tulum, for New Year's, and I'm looking forward to putting my feet in the sand and coming home with a tan.
"I Will Not Be Silent": Hollywood's Biggest Names Pledge to Speak Their Minds: