Cara Delevingne Opens Up About Battling Depression and Suicidal Thoughts as a Teenager
"I didn't want to be alive anymore."
---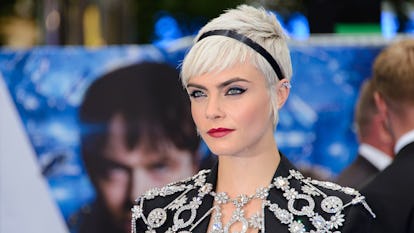 Joe Maher/WireImage/Getty Images
Cara Delevingne has already conquered the modeling, acting and singing worlds, and now, she's trying her hand at YA fiction. In her cover interview in this week's issue of Net-a-Porter's The Edit magazine, she explains how her own struggles with depression and suicidal feelings as a young adult helped her capture the angst of her teenage protagonists in Mirror, Mirror, which hits stores next week.
Delevingne said her mental health began to suffer as a result of her struggles in the classroom. "If I fail at something, it's the worst thing in the world because I never forgive myself," she said. "I didn't feel like I was ever good enough. The fact I couldn't do as well as other people made me hate myself. And you're made to feel that once you get a mark, like a C, that's your mark in life; that's you as a human being. That really sat with me for a long time."
"I always felt pretty weird and different as a kid, and that feeling was something I didn't understand, or know how to express," she continued. "I wish I could have given myself a hug. I wish I'd known that I was still in there somewhere, that I wasn't my own worst enemy, that I wasn't trapped. That if you can hold on for dear life — because being a teenager can feel like you're on a rollercoaster to hell, that's what it honestly felt like to me — you can get through it. Time moves on, feelings pass, it does get better."
Delevingne said she felt "something dark" within herself as a teenager, despite her privileged upbringing, and that being a late bloomer only made things worse. "I felt alienated and alone, because I was like, what's wrong with me? I always wanted people to love me, so I never got angry with them; I turned my anger onto myself," she said, and shared that she had to take a break from school when she was 15 to receive treatment for a breakdown. "I hated myself for being depressed, I hated feeling depressed, I hated feeling," she said. "I was very good at disassociating from emotion completely. And all the time I was second-guessing myself, saying something and then hating myself for saying it. I didn't understand what was happening apart from the fact that I didn't want to be alive anymore."
Since then, the 25-year-old has made her way to a healthier place, one where she no longer depends on the people around her to feel happy and fulfilled. "I know it sounds really stupid, but I relied too much on love, too much on other people to make me happy, and I needed to learn to be happy by myself," she said. "So now I can be by myself, I can be happy. It took me a long time."
Delevingne isn't alone in opening up about her mental health. Stars like Emma Stone, Lili Reinhart, and Zayn Malik have all also taken advantage of their platforms of late to help destigmatize and start open conversations about depression and anxiety.
Related: Cara Delevingne Sets the Record Straight on Her Sexual Fluidity
Cara Delevingne on "Suicide Squad," Justin Timberlake, and Her Childhood Obsession With Death:
Cara Delevingne's Most Adventurous Hairstyles, from Long Blonde Waves to a Short Pink Pixie
Attending the Roberto Cavalli party during Paris Fashion Week in 2010, Cara Delevingne wore her long blonde hair in a sleek, straight style.

Photo by Getty.
Arriving at the opening of the Uniqlo London Flagship store in 2011, Delevingne left her face bare, and accentuated those famous brows.

Dave M. Benett
Delevingne's bold red lip and tousled hair gave off edgy rocker vibes at the Burberry boutique opening in Paris in 2011.

Photo by Getty.
With a sleek ballerina bun and dewey skin, Delevingne was the epitome of an English rose at the Serpentine Gallery Summer Party in London in 2012.

Photo by Getty.
Delevingne wore her hair in relaxed waves and kept her makeup equally effortless at the Glamour Women of the Year Awards in 2013.

Photo by Getty.
Delevingne wore a rocker chic look with a dark grey smoky eye and sleek side french braid at the Costume Institute Gala's PUNK: Chaos to Couture exhibition in 2013.

Photo by Getty.
The supermodel stunned at the 66th Annual Cannes Film Festival in 2013 with her wavy hair, a bold red lip and a smoky eye.

Photo by Getty.
Wearing her hair in sleek, polished curls paired with a red satin lip, Delevingne looked pretty and elegant at the Toronto International Film Festival in 2014.

Photo by Getty.
The supermodel wore a frosted, silver eye and tousled natural waves at the 67th Annual Cannes Film Festival in 2014.

Photo by Getty.
Delevingne wore her blonde hair in a glamorous, Hollywood-appropriate curls at the Costume Institute Gala at the Metropolitan Museum in 2014.

Photo by Getty.
Wearing a playful, braided high ponytail with a purple smoky eye, Delevingne looked out of this world at the world premiere of Pan in London in 2015.

Photo by Getty.
The natural beauty wore beachy waves and nude pink lip at the Paper Towns Q&A in Los Angeles in 2015.

Photo by Getty.
At the Paper Towns New York premiere in 2015, Delevingne wore her hair in romantic, loose wave.

Photo by Getty.
At the 2016 MTV Movie Awards, Delevingne wore a plum lip and left her hair in natural waves.

Photo by Getty.
Delevingne's shorter hairstyle at the Suicide Squad premiere in London in 2016 felt like a refreshing change for the model turned actress.

Photo by Getty.
Natural tousled blonde waves with chic sunglasses was the look at theChanel show during Paris Fashion Week 2017.

Getty.
Embellishing her recently shaved head with frosted silver paint and diamond sequins, Delevingne attends the 2017 Costume Institute Gala.

Getty.
Paring her exaggerated taupe smokey eye with a dark maroon lip, Delevingne attends the 2017 MTV Movie and TV Awards.

Getty.
At the Valerian And The City Of A Thousand Planets film premiere, Delevingne embellishes her platinum pixie with a sleek cat eye and satin red lip.

Getty.
Now adding pink highlights to her pixie cut, Cara Delevingne attends the Valerian and the City of a Thousand Planets New Mexico film premiere.

Getty.