Cara Delevingne, Author, Shares Cover Art and Release Date for Upcoming Novel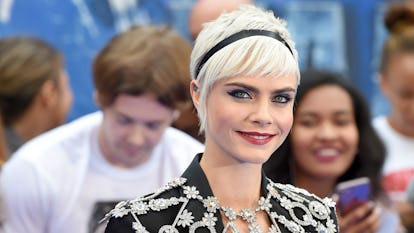 Anthony Harvey/Getty Images
Somehow, between starring alongside Rihanna in a huge sci-fi movie, shaving her head, and traveling to Uganda with Girl Up and the United Nations, Cara Delevingne also found time this year to write a novel. And you'll be able to read the model-actress-humanitarian-style star's first book quite soon.
In an Instagram post on Tuesday, Cara revealed the cover art and release date for the novel. "I am so excited to share the cover for my first novel MIRROR, MIRROR coming out 5th October. It's a story about friendship, identity and the fact that appearances can be deceiving. I'm in love with the characters Red, Naomi, Leo and Rose who are feisty and vulnerable in equal measure and I can't wait for you to meet them," she captioned an animated video of her book's intriguing cover. Cara also noted that Mirror, Mirror is already available for preorder on the HarperCollins's website.
The 25-year-old first announced that she was working on a book in March, when she posted a photo on Instagram of her posing with the Mirror, Mirror manuscript. "Another pinch me moment!! Announcing my first novel Mirror, Mirror, coming out this October! ….I love these characters so much, I love what they stand for, what this story represents. The process of putting this novel together has been life changing and something I hold really close to my heart!!" she wrote at the time.
According to HarperCollins, the book revolves around a group of "misfits" as they try to figure out why a friend mysteriously vanished and then reappeared in a coma. "To understand what happened to Naomi, Red, Leo and Rose must ultimately face their own dark secrets and fears, and reconcile the difference between what they feel inside and what they show to the world," the description says. "Cara Delevingne reveals another facet of her amazing talent with this powerful novel about identity, sexuality, gender, emotional pain, the complicated world of social media, and the dangerous weight of appearances that are not what they seem."
Cara is well-versed in the topics she covers in her book: She's been refreshingly vocal about her own sexual fluidity and recently spoke to Glamour about the response she's received since coming out as sexually fluid. "Someone is in a relationship with a girl one minute, or a boy is in a relationship with a boy, I don't want them to be pigeonholed…I am very happy how sexuality has become easier and freer to talk about, especially for kids." And earlier this summer, shortly after shaving her head for an upcoming film, Cara opened up on Instagram about her belief that beauty should be more broadly defined than it currently is in society. "The more we embrace who we are as people and rely less on our physical attributes, the more empowered we become. Beauty shouldn't be so easily defined. It is limitless," she wrote. "Its exhausting to be told what beauty should look like."
Related: Cara Delevingne Just Dropped Her First Music Video
Cara Delevingne on "Suicide Squad," Justin Timberlake, and Her Childhood Obsession With Death:
Cara Delevingne's Most Adventurous Hairstyles, from Long Blonde Waves to a Short Pink Pixie
Attending the Roberto Cavalli party during Paris Fashion Week in 2010, Cara Delevingne wore her long blonde hair in a sleek, straight style.

Photo by Getty.
Arriving at the opening of the Uniqlo London Flagship store in 2011, Delevingne left her face bare, and accentuated those famous brows.

Dave M. Benett
Delevingne's bold red lip and tousled hair gave off edgy rocker vibes at the Burberry boutique opening in Paris in 2011.

Photo by Getty.
With a sleek ballerina bun and dewey skin, Delevingne was the epitome of an English rose at the Serpentine Gallery Summer Party in London in 2012.

Photo by Getty.
Delevingne wore her hair in relaxed waves and kept her makeup equally effortless at the Glamour Women of the Year Awards in 2013.

Photo by Getty.
Delevingne wore a rocker chic look with a dark grey smoky eye and sleek side french braid at the Costume Institute Gala's PUNK: Chaos to Couture exhibition in 2013.

Photo by Getty.
The supermodel stunned at the 66th Annual Cannes Film Festival in 2013 with her wavy hair, a bold red lip and a smoky eye.

Photo by Getty.
Wearing her hair in sleek, polished curls paired with a red satin lip, Delevingne looked pretty and elegant at the Toronto International Film Festival in 2014.

Photo by Getty.
The supermodel wore a frosted, silver eye and tousled natural waves at the 67th Annual Cannes Film Festival in 2014.

Photo by Getty.
Delevingne wore her blonde hair in a glamorous, Hollywood-appropriate curls at the Costume Institute Gala at the Metropolitan Museum in 2014.

Photo by Getty.
Wearing a playful, braided high ponytail with a purple smoky eye, Delevingne looked out of this world at the world premiere of Pan in London in 2015.

Photo by Getty.
The natural beauty wore beachy waves and nude pink lip at the Paper Towns Q&A in Los Angeles in 2015.

Photo by Getty.
At the Paper Towns New York premiere in 2015, Delevingne wore her hair in romantic, loose wave.

Photo by Getty.
At the 2016 MTV Movie Awards, Delevingne wore a plum lip and left her hair in natural waves.

Photo by Getty.
Delevingne's shorter hairstyle at the Suicide Squad premiere in London in 2016 felt like a refreshing change for the model turned actress.

Photo by Getty.
Natural tousled blonde waves with chic sunglasses was the look at theChanel show during Paris Fashion Week 2017.

Getty.
Embellishing her recently shaved head with frosted silver paint and diamond sequins, Delevingne attends the 2017 Costume Institute Gala.

Getty.
Paring her exaggerated taupe smokey eye with a dark maroon lip, Delevingne attends the 2017 MTV Movie and TV Awards.

Getty.
At the Valerian And The City Of A Thousand Planets film premiere, Delevingne embellishes her platinum pixie with a sleek cat eye and satin red lip.

Getty.
Now adding pink highlights to her pixie cut, Cara Delevingne attends the Valerian and the City of a Thousand Planets New Mexico film premiere.

Getty.