Cara Delevingne's Acting Career Just Peaked
Somehow, a supermodel is even better than Andy Serkis at playing Gollum.
---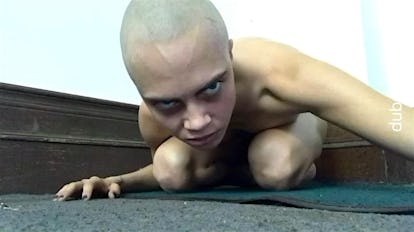 Courtesy of @caradelevingne
"Acting has always been my dream—it's definitely where I see my future," the supermodel Cara Delevingne told Harper's Bazaar in 2012 at the London premiere of her big-screen debut, Anna Karenina. In the years since—all while remaining one of the best models we have—she's racked up quite the IMDb page, zigzagging her way across Hollywood genres and counting everyone from Jude Law to Alicia Vikander to Will Smith as costars. (Not to mention Taylor Swift, Selena Gomez, and the rest of the squad, if you're counting the music video for "Bad Blood.")
Quite unlike her career in fashion, Delevingne hasn't won any awards just yet, but she's certainly established herself as more than your standard model-slash-actress; her burgeoning career has proven eventful—at times, quite unfortunately so. (Practically every film she's appeared in has later required weathering a bounty of less than glowing reviews, and, on a much more serious note, have on occasion led to experiences with the harassment that runs rampant in the industry's underbelly.)
Among all of the valiant efforts and accomplishments she's racked up in film, though, nothing comes close to the one that she quietly debuted on her Instagram account on Thursday afternoon: a tour de force performance that, in just a few short seconds, better showcases Delevingne's cinematic talent than all of her screen time combined. (The choice of platforms isn't so surprising when you consider that earlier this year, Delevingne also used Instagram to share what was then her most transformative role yet with her 40 million-plus followers: a homeless drifter dealing with substance abuse, a guise she took on for a music video.)
Of course, Delevingne has transformed herself for the silver screen before. For Anna Karenina, back in 2012, she dove head-first into period dramas with the genre's reigning queen, Keira Knightley. (By the end of it, her costar had not only taught her the romantic ways of historical heroines, but also helped Delevingne with filming her first sex scene.) Delevingne also returned to the genre in 2017, in Tulip Fever, alongside Alicia Vikander.
The same summer that she struck out as one of Swift's bondage bombshells, she also gave her first go at playing a troubled teen, starring in John Green's Paper Towns as the hoodie-wearing object of Nat Wolff's affection. (She'll soon do the same with Jaden Smith in Life in a Year, playing his dying girlfriend.)
Then Delevingne made the leap into sci-fi, transforming into an ancient demonic witch to Margot Robbie and Jared Leto's motley crew of supervillains in Suicide Squad, paving the way for an even more ambitious project the following year: a 3-D space opera that was apparently the most expensive non-American and independent film ever made, Valerian and the City of a Thousand Planets. Alas, even though it also featured a cameo from Rihanna, the film didn't exactly succeed, making for a rather sad end to her filmography—at least until today.
Accomplished as she's proven in the past, this week, Delevingne really found her stride. She doesn't just have a knack for playing troubled teens, but also, as she proved via Instagram on Thursday, a knack for playing tortured, centuries-old freaks from the realm of Middle Earth. Only Delevingne, it seems, could turn a tired Dubsmash into evidence as such. If you're having doubts, stop and ask yourself the question: Would you ever have suspected that the most eligible candidate for playing Gollum, J.R.R. Tolkien's creation of a 589-year-old deformed shell of a hobbit would be a preternaturally beautiful supermodel?
The answer, if you're being honest, is most definitely no. And yet, on an otherwise ordinary afternoon, Delevingne expertly and unassumingly proved you wrong. It's not just her flawless lip syncing as she voices Gollum's tragic catchphrase, but also her bodily contortion and physical transformation—most strikingly evidenced on her forehead, by a throbbing vein.
For years now, the world has believed Andy Serkis, who portrayed a computer-generated Gollum throughout the Lord of the Rings trilogy, the only one capable of such a performance. And yet Delevingne was lying in wait this whole time, not even needing technological assistance (aside from a soundtrack courtesy of Dubsmash). Sorry, Andy, but it's time to fork over your precious Gollum-era awards.
Related: Cara Delevingne Plays a Homeless Drifter in Her First Music Video Role in Three Years
Cara Delevingne in W Magazine: Revisit the Model's Best Photoshoots