Cara Delevingne and Paris Jackson Are Your Latest Celebrity BFFs
The relationship rumor mill just keeps printing out those receipts.
---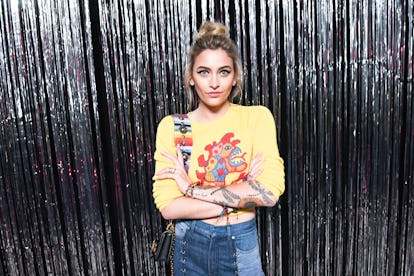 Billy Farrell/John Salangsang/BF
Not only does the first day of spring signal a seasonal rejuvenation of plants and sunny weather, but a reinvigoration of the relationship rumor mill as well—this time with Paris Jackson and Cara Delevingne at the center of it.
The two have sent the Internet in a frenzy, with endless speculation that Jackson and Delevingne have been dating for months—the pair has reportedly been hanging out frequently since the 2017 MTV Movie and TV Awards. Delevingne has publicly addressed her sexuality before; (in 2015 she came out as bisexual in the midst of a high profile relationship with musician Annie Clark, aka St. Vincent, just after breaking up with action star Michelle Rodriguez), while Jackson is reportedly "not interested in making a big statement about her sexuality" at the moment, but has maintained a mostly single status since dating Michael Snoddy in 2017. Neither of them have officially confirmed their relationship status, but by now all signs point to romance for the two.
At Burberry's Fall 2018 show during London Fashion Week, Delevingne made her return to the runway draped in a rainbow cloak. And who else was there to support her but Paris Jackson—who notably eschewed sitting with the other celebrities and sat with Delevingne's family instead at the star studded show.
Later in February, Jackson shared a photo of herself with Delevingne, who was playfully biting her baseball cap as she held a red rose in her hand, with the caption "so f–king happy i got to see my favorites, can't wait to come back again soon." The pair was also spotted holding hands while on an evening stroll in London.
And just Monday night, Jackson shared a photo of Delevingne jumping on her bed on Instagram, followed by some Instagram Stories of the two of them cuddling in bed while watching Carol, quoting the line spoken by Cate Blanchett during a lunch date with Rooney Mara's Therese in the film ("you're flung out of space") and feeding each other strawberries.
Now, we know Cara Delevingne can be a prankster, and so can Jackson, but their social media presences just keep printing those receipts insinuating that they are dating. Sitting with your friend's family at a work event, repeatedly posting photos and videos of each other on Instagram, and holding each other in bed while watching a canonical lesbian period drama? That all sounds like relationship material. Also, they could just be friends. The mystery lives on!
Related: Paris Jackson Asks People to Stop Altering Her Skin Tone