Cara Delevingne Texted Princess Eugenie for Permission to Break the Royal Wedding Dress Code
Eugenie, apparently, expected nothing less from Cara.
---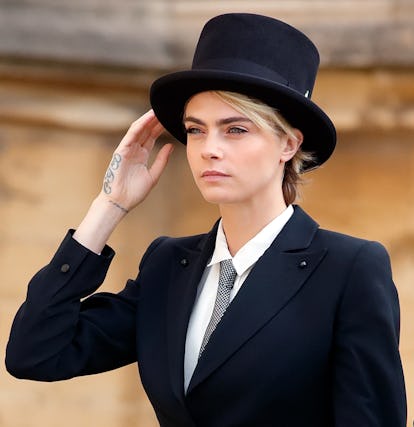 Max Mumby/Indigo
When Cara Delevingne sauntered up the gravel walkway to St. George's Chapel at Windsor Castle last month in an Emporio Armani tuxedo, many a tradition-bound jaw dropped at the idea of the model and actor so blatantly disregarding a wedding dress code set by the staid British royal family. But in a new interview with Grazia U.K., Delevingne revealed that she hadn't totally flouted her longtime pal Princess Eugenie's wishes, and made sure to ask the bride-to-be before donning her menswear-inspired look, which comprised a black jacket with knee-length tails, cropped black trousers, and a Chanel top hat, plus a black cummerbund, a patterned necktie, classic black pumps, and, of course, a toothpick perched jauntily in the side of her mouth. It seems that Eugenie, for her part, would've been more surprised if Delevingne hadn't made the request.
"Eugenie has been a friend of mine since I was a kid and I've always wanted to wear tails," she told the outlet, per Hello!. "I texted her, as I wasn't sure about it, and she was like, 'Of course, I expected nothing else from you!'" Delevingne added, "I found it interesting how many people came up to me and said, 'You're so brave to wear that!' I was like, really? I feel way more comfortable like this."
After the wedding festivities had come to a close, Delevingne shared several photos of her chic ensemble on Instagram, boasting in one that she was "showing up the lads," and captioning another, "Suited and booted." In yet another post, Delevingne offered up a side-by-side comparison of her at the royal wedding and her as a child at some early-aughts red carpet event, also in a dapper black suit and matching hat, and joked, "Who wore it better???"
As previously reported, Delevingne's choice of royal wedding garb was basically the exact opposite of what was asked of female wedding guests. Per the event's invitations, women were expected to wear a "day dress with hat"—as attendees like Kate Middleton, Pippa Middleton, and Delevingne's sister Poppy did—while male guests wore "morning coats." Thankfully, Delevingne was there to drag the British royals into the 21st century with the help of a more modern take on gender and sexuality.
Related: The 13 Best-Dressed Guests at Princess Eugenie's Wedding, Including Cara Delevingne in a Tuxedo and Kate Middleton in Alexander McQueen
The 13 Best-Dressed Guests at Princess Eugenie's Wedding, Including Cara Delevingne in a Tuxedo and Kate Middleton in Alexander McQueen
Cara Delevingne arrives ahead of the wedding of Princess Eugenie of York and Jack Brooksbank at St. George's Chapel on October 12, 2018, in Windsor, England.

WPA Pool
Pippa Middleton arrives ahead of the wedding of Princess Eugenie of York and Jack Brooksbank at St. George's Chapel on October 12, 2018, in Windsor, England.

WPA Pool
Catherine, Duchess of Cambridge arrives ahead of the wedding of Princess Eugenie of York to Jack Brooksbank at Windsor Castle on October 12, 2018, in Windsor, England.

WPA Pool
Poppy Delevingne arrives ahead of the wedding of Princess Eugenie of York and Jack Brooksbank at St. George's Chapel on October 12, 2018, in Windsor, England.

WPA Pool
Sarah, Duchess of York and Princess Beatrice arrive ahead of the wedding of Princess Eugenie of York and Jack Brooksbank at St. George's Chapel on October 12, 2018, in Windsor, England.

WPA Pool
Ellie Goulding arrives for the wedding of Princess Eugenie of York to Jack Brooksbank at St. George's Chapel on October 12, 2018, in Windsor, England.

WPA Pool
Kate Moss and Lila Grace Moss Hack arrive ahead of the wedding of Princess Eugenie of York and Jack Brooksbank at St. George's Chapel on October 12, 2018, in Windsor, England.

WPA Pool
Liv Tyler arrives ahead of the wedding of Princess Eugenie of York to Jack Brooksbank at Windsor Castle on October 12, 2018, in Windsor, England.

WPA Pool
Pixie Geldof arrives ahead of the wedding of Princess Eugenie of York to Jack Brooksbank at Windsor Castle on October 12, 2018, in Windsor, England.

WPA Pool
Demi Moore arrives ahead of the wedding of Princess Eugenie of York and Jack Brooksbank at St. George's Chapel on October 12, 2018, in Windsor, England.

WPA Pool
Meghan, Duchess of Cambridge arrives ahead of the wedding of Princess Eugenie of York to Jack Brooksbank at Windsor Castle on October 12, 2018, in Windsor, England.

WPA Pool