Cardi B Buys Her Mom Her "Dream Home," Says It's the "Happiest Day of My Life"
"Happiest day of my life," the rapper says as she tours the house on Instagram.
---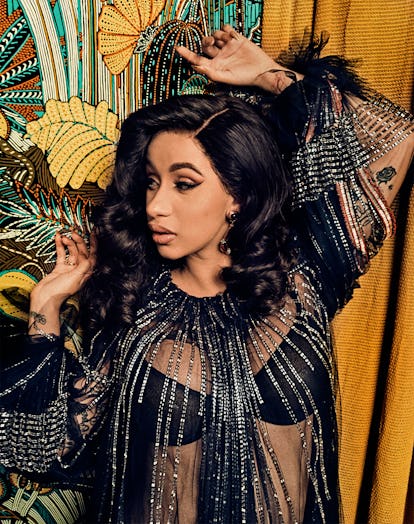 Photograph by Mickalene Thomas.
Cardi B now has "big girls' bills" to pay. On Monday, the rapper took her Instagram followers on a tour of the massive house she'd just purchased for her mother, holding back tears and sharing her excitement over finally being able to fulfill this lifelong dream. "Stay down till you come up !Its always been a dream to buy my mother a house .Last year i was so thirsty to buy my mom a house but the ones i was interested for her weren't at my price range .I worked and worked and now I'm here !!" she captioned two videos of the New York home. "Thank you everybody who supported me to make my childhood dreams come true! Buy my momma a house !!…..don't ask me for shit motherfuckers i got big girls bills ??!"
In the first video, Cardi tours the main floor and basement. "Happiest day of my life," she says as she shows off the huge kitchen, which features white cabinets, stainless steel appliances, and a large granite-topped island in the center. "Last year, I was so thirsty to buy my mom a home, and I could only afford a house that cost $600,000. And you know, we live in New York, so cribs that looked like that looked like shit. I waited, I waited, I waited, I waited until I could afford a dream home, and I copped it, worked my ass off," she continues, panning the camera over a spare room and a bathroom near the kitchen, as well as the elaborate wrought-iron staircase leading to the second floor.
Instead of going up, however, she says that "my favorite part is the basement. Let me show you," and heads downstairs. "I'm emotional, I'm ready for the crying. I'm just happy that, you know, when my daughter visits her grandma's house, she's going to come here, with all her friends," Cardi says, pointing out a mirrored workout room and another bathroom before showing off what looks like a red-carpeted, multilevel home theater. "Favorite part of all, it's this," she says of the theater room. "Can't wait until all my family comes here—Thanksgiving, everything. So happy."
The second video offers a much quicker glimpse of the home's second floor. "So, this is the upstairs," Cardi says, filming the staircase, gleaming wooden floors, and the balcony that looks down onto the lower level. "So happy."
The Grammy nominee has often spoken about the gratitude she has for the way her parents raised her, telling W in her October cover story that she hoped to parent daughter Kulture in the same way. "I'm going to be very strict. Like, you can have whatever you want, but you can't do whatever you want," said Cardi, who was forbidden by her own very strict parents to attend sleepovers and other parties at her friends' houses. "My mom tried to stop me from all of that, but I still did it. I joined a gang. If she had let me out as often as I wanted to, I probably would be dead or got my face cut up. Or been a teenage mom," she said.
Related: Cardi B Explores ASMR