Kylie Jenner Surprised Kris With a New Ferrari For Her Birthday
When it comes to gifting anyone in the Kardashian family, err on the side of a really expensive car.
---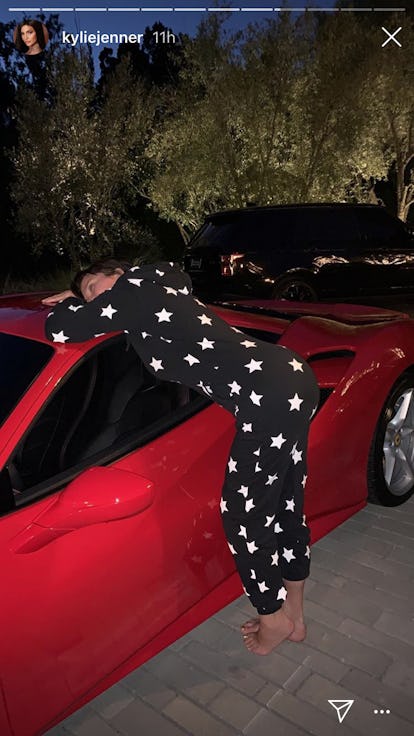 Kylie Jenner/Instagram
Kylie Jenner just couldn't wait until her mom Kris Jenner's actual birthday, on November 5, to give her the ultimate surprise present, apparently.
What do you get for the mom who already has everything? Well, there's always a red Ferrari 488, or Kris's "dream car," according to her daughter, who shocked her mother with a new Ferrari on Monday night. Of course, since this was all documented via Instagram Story, fans of the beauty mogul were privy to some behind-the-scenes commentary as Kylie filmed her mother's shocked reaction to her birthday present. "I've had this for the last month and I'm so excited to be finally giving it to her," she said off-screen on her Instagram Story.
An unsuspecting Kris—who was barefoot and wearing star-patterned pajamas, and admitted that she "would've dressed cuter" had she known there was a surprise waiting for her outside, was led out of the house by her boyfriend, Corey Gamble, to whom she asked, "How do you even start it?" when she saw that her daughter had given her her dream car. "I'll teach you how to drive it tomorrow," Gamble replied.
Nothing says "I love you" like a luxury vehicle on a birthday, or at least such is the case for the Kardashian-Jenner family. Kylie herself has been the recipient of a handful of different luxury cars, like the Ferrari 482 Italia her then-boyfriend, Tyga, gave her when she turned 18, and the Mercedes-Benz Maybach he gave her for her 19th birthday, the following year. Then there was also the drama surrounding Tyga's Ferrari, which was reportedly repossessed. Giving him a $229,000 Bentley Bentayga was Kylie's quick fix for that snafu.
The starting price for the eight-cylinder Ferrari 488 that Kris received for her upcoming 63rd birthday is somewhere around $250,000, which is just pennies in the grand scheme of things for a "self-made" billionaire.
Related: Kylie Jenner Turned Her Home Into Haunted House for Stormi's First Halloween