Will Michael Bay's Dora The Explorer Crack the Case of Cardi B's Missing Purple Blanket?
Cardi B has enlisted the help of Dora the Explorer, the bilingual children's cartoon known for recovering stolen property.
---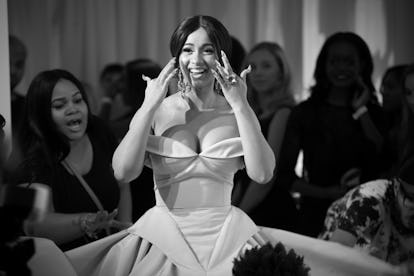 Lexie Moreland
On October 23, The Hollywood Reporter announced that Michael Bay, the director known for his penchant for blowing up buildings and robots in the Transformers franchise and beyond, has been tapped to produce Paramount's upcoming Dora the Explorer film. Based on Nickelodeon's bilingual children's cartoon, the live action movie will focus on a teenage Dora after she moves to the big city with her cousin, Diego. It remains to be seen whether or not Boots, Dora's pet monkey and sidekick, or Swiper, the shifty fox known for "swiping" items that don't belong to him, will make an appearance in the upcoming movie, or if they'll be handling any explosives at all. Paramount aims for a 2019 release, but until then, we've got a case for Dora to crack that could very well take at least a full year.
On October 21, Billboard Hot 100 chart topper and BET Hip Hop Award winning rapper Cardi B posted a video to Instagram about a puzzling property theft. "I don't know if it's my team or my family, 'cause those are the people that been around," Cardi B proposed to her Instagram followers when announcing that someone had pilfered one of her most prized possessions—her purple blanket.
"Find my purple blanket!" she yells in a call to action at the end of the video. The now infamous missing blanket can be seen on her Instagram in a throwback post, and admittedly it does look quite cozy.
The 25-year-old Bronx native has even enlisted the help of Dora the Explorer, the famed Spanish speaking detective known for recovering swiped objects, who also is now a citydwelling teen according to producer Michael Bay and writer Nick Stoller.
Cardi B's missing blanket saga has even seeped into her personal relationships. Page Six reported the "Bodak Yellow" singer momentarily broke up with her boyfriend Offset (of Atlanta based rap group Migos), before getting back together again the next day. Could Cardi B's chart topping beau have been the one to nab her blanket?
According to her Twitter feed, Offset did not take the blanket, so they're officially back on as a couple, but the blanket stealing suspect is still at large. As alarming as it is to discover your favorite blanket is missing, the news should not come as a surprise to Cardi B. Just a week before her blanket disappeared, she shared with her fans that her famous friends have recently been caught snatching her stuff. No matter how rich and famous your friends are, people will "still end up stealing your charger and your lighter."
She has a point! Everybody knows you can't leave a charger or lighter around without your name etched on it, lest it be taken as someone else's. Blankets, however, are a little bit harder to label, unless Cardi plans to sew her initials or one of her infamous catchphrases (the iconic "Shmoney" comes to mind as a possible choice) into the lining.
At the end of the day, we're all left wondering, where in the world is Cardi B's purple blanket? Only time will tell, but for now, Cardi B may want to keep her blankets and chargers away from her famous friends, including potential collaborator and avid Instagram user, Beyonce. Maybe, if the rumors are true, we'll get a lyrical masterpiece that chronicles this riveting blanket saga. Cardi B is known for not having a filter, so it should go without saying by now that she will put anyone on blast if they take something without asking. In 2019, no one should be surprised if a teenage Dora the Explorer comes knocking, talking monkey and a backpack in tow, in an attempt to crack the case of Cardi B's missing purple blanket.
Related: Cardi B Shares Her Instagram Do's and Don'ts, and Why You Should Post "Every Two Hours"
See W's most popular videos: