How Carrie Fisher Will Be in the Final Star Wars Film, and Complete Princess Leia's Arc
It's not through CGI or hologram.
---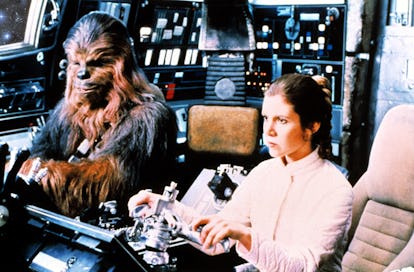 ©Lucasfilm Ltd./Courtesy Everett Collection
On Friday, Lucasfilm announced the cast for the upcoming third and final installment of the new Star Wars trilogy, Episode IX, revealing that filming is slated to begin in London in the next week. Among the cast members are a number of familiar names—including Daisy Ridley, Adam Driver, John Boyega, Oscar Isaac, Domhnall Gleeson, and Carrie Fisher's daughter Billie Lourd—as well as several newcomers—including Keri Russell, per Variety, as well as Naomi Ackie, best known for her role in the breakout indie Lady Macbeth.
But perhaps the most unexpected revelation from the announcement is the inclusion of a posthumous appearance by Fisher, who died in 2016, shortly after filming wrapped on The Last Jedi, as Princess Leia.
"Finding a truly satisfying conclusion to the Skywalker saga without her eluded us," director J.J. Abrams, who directed the first film in the trilogy, The Force Awakens, and took over when Colin Trevorrow departed the film, said in a statement. "We desperately loved Carrie Fisher." So, with the apparent green light from Lourd, Abrams plans to include unused footage from the The Force Awakens to round out Fisher's arc in the trilogy, without resorting to CGI or holograms (à la Paul Walker or Tupac). As the New York Times noted in a recent story, a young, original-trilogy-era Leia had been depicted via hologram in the spinoff film Rogue One, prompting some speculation that the Star Wars filmmakers might try similar methods to include General Leia in the final film—something Abrams addressed in his statement, indicating it was never his intention to either "recast or use a CG character."
Episode IX, the title of which has not yet been announced, will round out the rebooted Star Wars trilogy, which began with 2015's The Force Awakens. It's scheduled for a winter 2019 release, a sort of posthumous swan song for one of science fiction's most beloved, and most iconic, characters.