How Kim Kardashian, Miley Cyrus, and More Celebrities Are Celebrating Easter 2018
Pastel eggs, delicious brunch spreads, and bunny ears abound.
---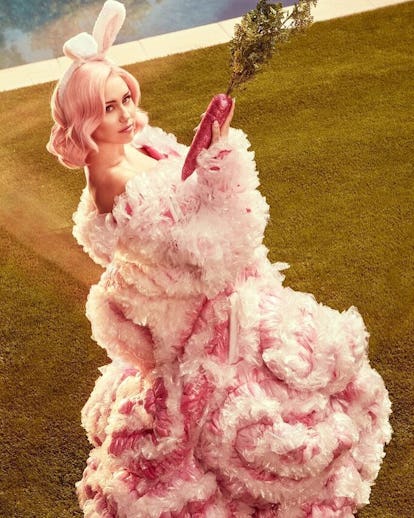 @mileycyrus
It's Easter, and celebrities all over are ardently focused on documenting their pastel-colored eggs, family brunches, and quality time spent with bunnies real and Playboy alike in honor of Jesus Christ rising from the dead. (In an uncommon coincidence, it's also April Fool's Day, a lesser holiday that has apparently been muffled by the sound of Cadbury's Creme Eggs and Peeps, whatever that sound would be.)
Whether on their stories or in their feeds, the likes of Gigi Hadid, Kim Kardashian, Sky Ferreira, and Karen Elson, to name just a few, have already started to post highlights from their holiday weekends—and, as of writing, it's only early afternoon. Still in bed, Hadid posted a video wishing her followers a happy Easter to her Instagram stories; Kardashian opted for a still from a photo shoot in which she wore a beaded minidress, captioned with the rabbit emoji (unclear, still, how this relates to Easter); Ferreira uploaded a photo from the issue of Playboy that she guest-edited; and Elson offered a snapshot of her enviable brunch spread.
Miley Cyrus, doing the absolute most, started celebrating a couple days early: She staged an Easter-themed photo shoot in which she poses with a long-haired cat, a human-sized Easter basket, and a person in a bunny costume (among other absurd scenarios) that she began posting earlier in the weekend, though her fiancé Liam Hemsworth's last holiday-related post was an all-green post on St. Patrick's Day. It's since taken up her feed, though the below is just a sampling.
Designer Marc Jacobs posted a photo of himself styled as Hugh Hefner, surrounded by women in bunny costumes, while Givenchy's Clare Waight Keller posted a selfie with a fluffy rabbit from Tokyo. Elsewhere, former Pretty Little Liars actress Lucy Hale offered a rundown of the candy her party had consumed so far. (For the record: "30 Reese's eggs, 4 boxes of nerds, 12 malt balls, 3 laffy taffy and some stomach aches," she wrote, adding several candy emojis.)
Julia Restoin Roitfeld and Naomi Watts kept it simpler, posting from upstate and the beach, respectively. Roitfeld kept it particularly on theme—her lifestyle brand–blog, Romy and the Bunnies, is named for her daughter, Romy, who is also pictured in her post—while Watts simply wrote, "#outofoffice."
Dear Evan Hansen star Ben Platt, meanwhile, shared some very exciting casting news.
By contrast, Kate Middleton, in what's anticipated to have been her final public appearance before she gives birth later this month, kept it traditional, and off social media, attending a church service with Prince William that Harry and Meghan opted to skip. That was the real pro move.
Related: How Pastels Became Spring's Most Surprisingly Cool Trend
The British Royal Family's Best Easter Fashion: See Princess Diana, Kate Middleton, Queen Elizabeth II, and More
Diana, Princess of Wales, with her son Prince William and her nephew Peter Phillips on their way to Easter service in 1987. The princess is wearing a pale blue coat designed by Catherine Walker, who made a similar one for Prince William. Photo courtesy of Getty Images.

Tim Graham
Queen Elizabeth II and the Queen Mother attend the Easter service at St George's Chapel, Windsor, circa 1987. Photo courtesy of Getty Images.

Tim Graham
From left: Peter Phillips, Prince William, Diana, Princess of Wales, and Prince Charles attend the Easter service at Windsor, April 19, 1987. (Photo by Tim Graham/Getty Images)

Tim Graham
The Duchess of York attending an Easter Service at St George's Chapel, Windsor, in 1988. (Photo by Tim Graham/Getty Images)

Tim Graham
Diana, Princess of Wales, with Prince William, and Prince Harry, during the Easter weekend, at Windsor Castle, on April 2, 1988 in Windsor, United Kingdom . Photo courtesy of Getty Images.

Julian Parker
Queen Elizabeth II attends the Easter service at St George's Chapel, Windsor, March 1988. Photo courtesy of Getty Images.

Tim Graham
Charles, Prince of Wales, his son Prince William, and Diana, Princess of Wales, attend the Royal Easter Service at St George's Chapel on March 26, 1989, in Windsor, England. Photo courtesy of Getty Images.

Georges De Keerle
The Duchess of York, Sarah Ferguson, and Diana, the Princess of Wales, holding Easter eggs after attending morning service at St George's Chapel in Windsor Castle in 1991. Photo courtesy of Getty Images.

Martin Keene – PA Images
Princess Diana and her son Prince William leaving Windsor Chapel after the traditional Easter service, April 1992. They are both holding Easter eggs that had been given to them. Photo courtesy of Getty Images.

Princess Diana Archive
Zara Phillips, daughter of the Princess Royal, and Prince Edward's then fiancée Sophie Rhys-Jones leaving St George's Chapel in Windsor, following the Easter Sunday service in 1999. (Photo by John Stillwell – PA Images/PA Images via Getty Images)

John Stillwell – PA Images
Queen Elizabeth II smiling at Windsor Castle for Easter service in 2003. (Photo by Tim Graham/Getty Images)

Tim Graham
Children give flowers to Britain's Queen Elizabeth II as she leaves the Easter Sunday church service in Windsor on April 4, 2010. Photo courtesy of Getty Images.

BEN STANSALL
Members of the royal family arrive to attend the Easter Matins at St George's Chapel in Windsor Castle on April 24, 2011, in Windsor, England. The annual service attended by the Queen and members of the royal family was one of the last formal royal engagements before the marriage of Prince William and Catherine Middleton in Westminster Abbey on April 29, 2011. From left to right: Princess Eugenie; Sophie, Countess of Wessex; Princess Beatrice; Prince Andrew, Duke of York; Prince Edward, Earl of Wessex; Princess Anne, Princess Royal. (Photo by Oli Scarff – WPA Pool/Getty Images)

Oli Scarff
Catherine, Duchess of Cambridge, is escorted past awaiting fans following Easter Sunday service at St Andrews Cathedral on April 20, 2014, in Sydney, Australia. The Duke and Duchess of Cambridge were on a three-week tour of Australia and New Zealand, the first official trip overseas with their son, Prince George of Cambridge. (Photo by Lisa Maree Williams – Pool/Getty Images)

Lisa Maree Williams
Queen Elizabeth II and Prince Philip, Duke of Edinburgh, attend the traditional Royal Maundy Service at Sheffield Cathedral on April 2, 2015, in Sheffield, England. (Photo by Max Mumby/Indigo/Getty Images)

Max Mumby/Indigo
Princess Eugenie and Princess Beatrice, with Lady Louise Windsor, attend the Easter Sunday Service at St George's Chapel on March 27, 2016, in Windsor, England. Photo courtesy of Getty Images.

Mark Cuthbert
Queen Elizabeth II and Prince Philip, Duke of Edinburgh, leave after the Easter Sunday church service at St George's Chapel, Windsor Castle, on March 27, 2016, in Windsor, England. Photo courtesy of Getty Images.

WPA Pool
Catherine, Duchess of Cambridge, and Prince William, Duke of Cambridge, attend Easterservice at St George's Chapel on April 16, 2017 in Windsor, England. Photo courtesy of Getty Images.

Samir Hussein