The Millie Bobby Brown–Kim Kardashian West Summit Finally Took Place
Brown and Kardashian West have hung out IRL at last.
---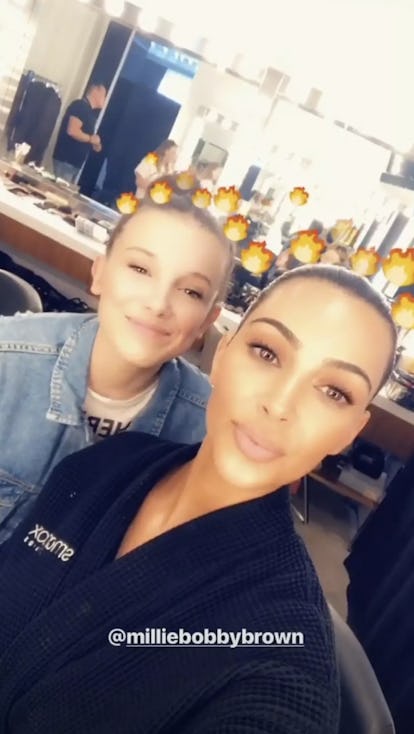 @kimkardashian
It's sort of incredible this didn't happen sooner, but in any case here goes: On Friday, March 30, 2018, Millie Bobby Brown, star of Stranger Things and number-one Kardashian stan, and Kim Kardashian West, star of Keeping Up with the Kardashians and a major Stranger Things stan, met in person at last.
This momentous summit between two great women of three names has been some time in the making. Back in November, Brown appeared on The Tonight Show Starring Jimmy Fallon and avowed her love for all things Kardashian. "I'm obsessed with them," she told Fallon. "They're so entertaining—they have their own language." Kim, Kris, and Kourtney all caught sight of the clip and reposted it on Twitter, expressing their mutual appreciation for the young actor. (They're not the only ones: Bella Hadid, Drake, and Dakota Fanning are all admirers of Brown's Stranger Things character, Eleven.) Then, in January, Brown tweeted that her sole desire in this world is for "Kourtney K to shake my salad," prompting Kim to respond, "I can arrange this!" On Valentine's Day, Kim sent Brown a sampling of her latest fragrance and beauty offerings; the same month, Brown starred in the latest Calvin Klein campaign, part of a Willy Vanderperre–lensed series in which the Kardashians also appeared in January.
So after six months of volleying tweets (and gifts) back and forth, Kim and Brown finally got to hang out IRL. They broadcast the encounter, which took place on set at an undisclosed location in Los Angeles, on their respective Instagram Stories, where both posted selfies with the floppy-gray-eared-dog filter and the fire-emoji filter. "Look who I'm hanging out with on this good Friday!" Kim wrote. (Of course, though this is the first time they have posted on social media about meeting in person, it's conceivable they had already hung out.))
Considering that Brown is on her way to becoming a minor mogul in her own right—she reportedly renegotiated her Stranger Things contract to earn her more than $3 million for the show's third season—it's only fair that she should start consorting with some major moguls. A Kardashian appearance on Stranger Things might be a bit much to hope for, but Brown waltzing into Calabasas doesn't look too far-fetched.
Related: Millie Bobby Brown and Dakota Fanning Had a Mutual Fangirling Moment at the 2018 SAG Awards
Millie Bobby Brown Is Already One Of Hollywood's Most Stylish Starlets at 13 Years Old
Millie Bobby Brown arrives at the BAFTA Los Angeles TV Tea presented by BBC and Jaguar at SLS Hotel on August 23, 2014 in Beverly Hills, California.

Getty
Millie Brown attends the Premiere of Netflix's Stranger Things at Mack Sennett Studios on July 11, 2016 in Los Angeles, California.

Getty
Millie Bobby Brown visits "The Tonight Show Starring Jimmy Fallon" at Rockefeller Center on August 31, 2016 in New York City.

Getty
Millie Bobby Brown enters "The Late Show With Stephen Colbert" taping at the Ed Sullivan Theater on September 13, 2016 in New York City.

Getty
Millie Bobby Brown at the ICM Partners Pre-Emmy Brunch on September 17, 2016 in Santa Monica, California.

Getty
Millie Bobby Brown attends the BBC America BAFTA Los Angeles TV Tea Party 2016 at The London Hotel on September 17, 2016 in West Hollywood, California.

Getty
Millie Bobby Brown attends the 68th Annual Primetime Emmy Awards Governors Ball at Microsoft Theater on September 18, 2016 in Los Angeles, California.

Getty
Millie Bobby Brown attends UNICEF's 70th Anniversary Event at United Nations Headquarters on December 12, 2016 in New York City.

Getty
Millie Bobby Brown attends The BAFTA Tea Party at Four Seasons Hotel Los Angeles at Beverly Hills on January 7, 2017 in Los Angeles, California.

Getty
Millie Bobby Brown arrives to the 74th Annual Golden Globe Awards held at the Beverly Hilton Hotel on January 8, 2017.

Getty
Millie Bobby Brown attends the 23rd Annual Screen Actors Guild Awards at The Shrine Expo Hall on January 29, 2017 in Los Angeles, California.

Getty
Millie Bobby Brown attends the Calvin Klein Collection Front Row during New York Fashion Week on February 10, 2017 in New York City.

Getty
Millie Bobby Brown poses in the press room at the 2017 MTV Movie and TV Awards at The Shrine Auditorium on May 7, 2017 in Los Angeles, California.

Getty
Millie Bobby Brown attends the SAG-AFTRA Foundation Conversations: "Stranger Things" at SAG-AFTRA Foundation Robin Williams Center on June 5, 2017 in New York City.

Getty
Millie Bobby Brown attends Netflix's "Stranger Things" For Your Consideration event at Netflix FYSee Space on June 6, 2017 in Beverly Hills, California.

Getty