Could Kim Kardashian and Millie Bobby Brown's Mutual Adoration End With a Stranger Things Cameo?
At this point, it's shocking that these two have never met.
---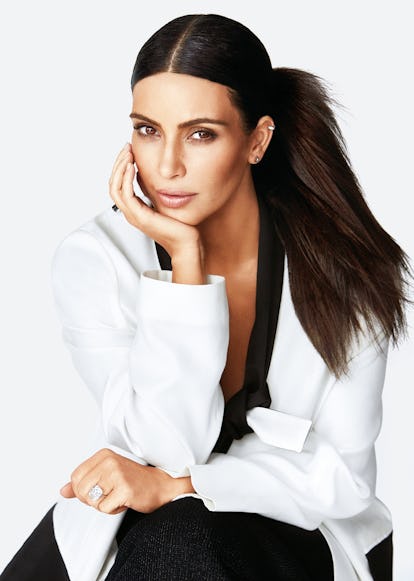 PATRICK DEMARCHELIER
If anyone knows how to fangirl over other celebrities, it's Millie Bobby Brown. The Stranger Things star is not simply a celebrity enthusiast, either—she exists in that sweet spot where other notable names want to be her friend too. Bella Hadid once freaked out over Brown sporting her Chrome Hearts t-shirt, Drake is a noted mutual fan of hers and even Dakota Fanning and Brown had a fangirl moment over each other at the 2018 SAG Awards. Now, the very public love fest between Millie Bobby Brown and the Kardashians continues—this time with Kim Kardashian telling TMZ that Stranger Things is her favorite show. The site has asked her if she'd ever appear on the show.
Well, Kim knows she can't forsake her own bread and butter, so Stranger Things is technically her favorite television show after Keeping Up With The Kardashians, but still, the mutual support between the two remains strong. After a three-way Twitter thread that occurred mid-January, in which Millie Bobby Brown tweeted, "Honestly, all i want is for Kourtney K to shake my salad," and both Kourtney and Kim replied to confirm that the feeling is indeed mutual. This wasn't even the first time Brown had confessed her love for the Kardashians—back in November, she appeared on The Tonight Show with Jimmy Fallon to discuss her obsession with the Kardashian-Jenner lexicon (she's especially fond of "Bible"), and nearly everyone else in the family threw the love right back.
Even though Millie Bobby Brown's name was nowhere to be found on the Post-it note collection circulated around the world, she was certainly not neglected by Kim this Valentine's Day. Kim sent the Stranger Things star a set of all three new KKW Kimoji Hearts fragrances in addition to some other KKW Beauty goodies, and Brown understandably freaked out on social media about the gifts.
When you travel down the rabbit hole of this particular e-friendship, it becomes apparent that at this point, it's shocking that these two still have yet to meet in real life. Maybe next time there's another Yeezy drop, we'll get to see Millie Bobby Brown as a Kim clone or a "KKW + MBB" candy heart included in next year's Valentine's Day collection, or better yet, maybe Kim can make an appearance in Stranger Things season three as a Hawkins Lab associate. One can only dream.
Related: Millie Bobby Brown and Dakota Fanning Had a Mutual Fangirling Moment at the 2018 SAG Awards
Millie Bobby Brown Is Already One Of Hollywood's Most Stylish Starlets at 13 Years Old
Millie Bobby Brown arrives at the BAFTA Los Angeles TV Tea presented by BBC and Jaguar at SLS Hotel on August 23, 2014 in Beverly Hills, California.

Getty
Millie Brown attends the Premiere of Netflix's Stranger Things at Mack Sennett Studios on July 11, 2016 in Los Angeles, California.

Getty
Millie Bobby Brown visits "The Tonight Show Starring Jimmy Fallon" at Rockefeller Center on August 31, 2016 in New York City.

Getty
Millie Bobby Brown enters "The Late Show With Stephen Colbert" taping at the Ed Sullivan Theater on September 13, 2016 in New York City.

Getty
Millie Bobby Brown at the ICM Partners Pre-Emmy Brunch on September 17, 2016 in Santa Monica, California.

Getty
Millie Bobby Brown attends the BBC America BAFTA Los Angeles TV Tea Party 2016 at The London Hotel on September 17, 2016 in West Hollywood, California.

Getty
Millie Bobby Brown attends the 68th Annual Primetime Emmy Awards Governors Ball at Microsoft Theater on September 18, 2016 in Los Angeles, California.

Getty
Millie Bobby Brown attends UNICEF's 70th Anniversary Event at United Nations Headquarters on December 12, 2016 in New York City.

Getty
Millie Bobby Brown attends The BAFTA Tea Party at Four Seasons Hotel Los Angeles at Beverly Hills on January 7, 2017 in Los Angeles, California.

Getty
Millie Bobby Brown arrives to the 74th Annual Golden Globe Awards held at the Beverly Hilton Hotel on January 8, 2017.

Getty
Millie Bobby Brown attends the 23rd Annual Screen Actors Guild Awards at The Shrine Expo Hall on January 29, 2017 in Los Angeles, California.

Getty
Millie Bobby Brown attends the Calvin Klein Collection Front Row during New York Fashion Week on February 10, 2017 in New York City.

Getty
Millie Bobby Brown poses in the press room at the 2017 MTV Movie and TV Awards at The Shrine Auditorium on May 7, 2017 in Los Angeles, California.

Getty
Millie Bobby Brown attends the SAG-AFTRA Foundation Conversations: "Stranger Things" at SAG-AFTRA Foundation Robin Williams Center on June 5, 2017 in New York City.

Getty
Millie Bobby Brown attends Netflix's "Stranger Things" For Your Consideration event at Netflix FYSee Space on June 6, 2017 in Beverly Hills, California.

Getty