Chanel Announces Ban on Exotic Animal Skins
That includes crocodile, lizard, snake, and stingray.
---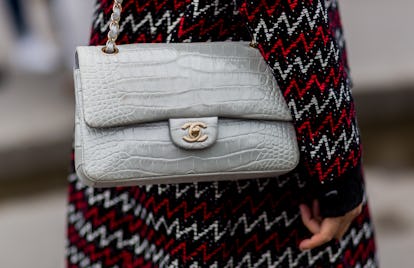 Christian Vierig/Getty Images
PETA can now cross all future Chanel presentations off its schedule of animal rights protests. On Monday, the day before the French fashion house's pre-fall Metiers d'Art show at New York City's Metropolitan Museum of Art, Chanel announced that it has initiated a ban on exotic animal skins in its designs. The brand will "no longer use exotic skins in our future creations," Bruno Pavlovsky, Chanel's president of fashion, told WWD.
Pavlovsky explained that the ban extends to crocodile, lizard, snake, and stingray, and also includes fur, the use of which Chanel has already majorly rolled back in recent years. "It is our experience that it is becoming increasingly difficult to source exotic skins," the brand said in a statement, per WWD, noting its intention to begin innovating "a new generation of high-end products" sans skins and furs. In place of these animal products, Chanel will reportedly turn to fabric and leathers generated by the "agri-food" industry.
The century-old brand is just the latest in an impressively long string of fashion heavyweights to outlaw fur and other animal products from its designs. In the last year alone, Gucci, Versace, Burberry, Michael Kors, and Maison Margiela, among others, have all vowed to go fur-free. "Fur? I am out of that," Donatella Versace told The Economist's 1843 magazine in March. "I don't want to kill animals to make fashion. It doesn't feel right."
Other designers, meanwhile, have been reluctant to go completely fur-free before a sustainable faux alternative has been developed; not only are some of the commonly used processes of creating faux furs toxic to the environment, but those (non-biodegradable) fur alternatives are also thrown away more readily than real furs. "I've been vegan for about the last year. When you look at how most of our meat, our animal products, are raised, from a health standpoint, I didn't feel that I should eat those things anymore. The fur thing, of course, is a natural thing. [Going vegan] starts to make you question that," Tom Ford said when asked by WWD earlier this year about his namesake brand's continued use of fur.
In a sort of compromise, Ford explained that he stopped using furs like mink and sable, since those animals are now bred almost exclusively for their fur, but will continue to use skins that are "food byproducts," like leather and shearling. "I have been very conscious of using animal skins that are food byproducts," he said. "Because whether I'm consuming meat or not, other people are, so these are things that are collected."
Related: Proof of Fashion's Love of Animals From the W Archives
Proof of Fashion's Love of Animals From the W Archives
Tilda Swinton photographed by Juergen Teller for W Magazine, September 2008.

Juergen Teller
Marc Jacobs and his dog Neville photographed by Steven Meisel for W Magazine, March 2014.

Steven Meisel
The designer Simon Porte Jacquemus and the model Hayett McCarthy photographed by Colin Dodgson for W Magazine, April 2016.

Colin Dodgson
Scarlett Johansson (with her chihuahua Maggie) and Natalie Portman photographed by Steven Klein for W Magazine, 2008.

Steven Klein
Photograph by Mario Sorrenti for W Magazine, September 2004.

Mario Sorrenti
Jessica Joffe photographed by Alex Prager for W Magazine, November 2010.

Alexandra Prager
Photograph by Mert and Marcus for W Magazine, September 2009.

Mert Alas and Marcus Piggott
London scene kid Feral Bojangles photographed by Tim Walker for W Magazine, September 2010.

Tim Walker
Mylène Jampanoï, Audrey Marnay, Anaïs Demoustier, Oroma Elewa, Kanika Kapoor, Amber Le Bon, Margaret Qualley, Nathalie Dompé, Candice Lake, and Hanneli Mustaparta photographed by Alexander Benjamin Huseby for W Magazine, April 2012.

Benjamin Alexander Huseby
Chloë Sevigny photographed by Anthony Maule for W Magazine, January 2012.

Anthony Maule
Jennifer Lawrence photographed by Tim Walker for W Magazine, October 2012.

Tim Walker
Hilary Swank photographed by Steven Klein for W Magazine, January 2008.

Steven Klein
Linda Evangelista photographed by Maurizio Cattelan for W Magazine, February 2010.

Maurizio Cattelan