Charli XCX, Fashion Week Veteran and General Party Enthusiast, Heads to Her First Marc Jacobs Show
The "Boys" singer took in her first Marc Jacobs show on Wednesday afternoon.
---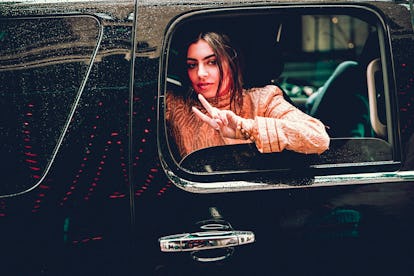 On the final day of New York Fashion Week, a pop star, a makeup artist, a hairdresser, a stylist, a publicist, a writer, and a photographer crowded into a snug room at the Gramercy Park Hotel that was soundtracked by the latest music hits.
At the center of it all was Charli XCX, who, as the singer behind "Boom Clap," "Break the Rules" and, most recently, "Boys," knows a thing or two about the Top 40.
The 25-year-old British singer, who was born Charlotte Emma Aitchison, was getting ready for her very first Marc Jacobs show, a rite of passage for any young It girl in the making, especially a rising pop star who aspires to hit the heights of some of the women who would be her companions in the front row, like Courtney Love and Nicki Minaj.
"I'm really excited," she said perched at the foot of the bed, as a glam team buzzed around her. She's been to fashion week for several seasons now, but this was different. "I know it is one of the biggest shows."
Charli XCX getting ready before Marc Jacobs' Spring/Summer 2018 collection presentation in New York City during New York Fashion Week.|||
"It is very interesting going to shows," she continued. "There is a certain atmosphere that is not really created in many other places. There's a sense of excitement and nervousness, an interesting combination. And, also, it's funny that there are so many amazing clothes in one room; of course the runway, but even people who are just sitting there. There are so many serious outfits. It's a room full of characters."
For her own Marc Jacobs persona that day, XCX had selected a Sixties-inspired mini dress with a swirling gold lame print from the designer's fall collection. "I really like the color gold, and have never really worn gold dresses before, and this is a very different shape for me," she said. "I like how structured the shoulders are, and the regal print. But it also feels quite rock n'roll, which I like. I want that kind of energy in clothes."
Paired with platform patent leather boots, it was certainly a different look from the singer's typical performance gear. "Stage for me is not about fashion. It's about my energy and me being able to perform and give the best live show possible," she said. "I'm not going to be able to do that in a pair of Louboutins, which I rarely wear anyways. For me, being on stage is about being able to go crazy. I like wearing baggy clothes on stage because I look kind of weird when I dance, so being in baggy clothes makes me feel kind of badass."
Now five years since her debut album, the singer is quick to note that her style has changed quite a bit since she first started out. "Oh my, God, I dressed like a crazy person," she said. "I was very into wigs, but bad wigs, and face paint. We laugh about it now. My style has evolved since I have grown up. Let's just say that."
Charli XCX getting ready before Marc Jacobs' Spring/Summer 2018 collection presentation in New York City during New York Fashion Week.|||
She paused as Dua Lipa's "New Rules" came through the stereo, noting her love for the song's viral video that had come out earlier this year, just as her own self-directed "Boys" blockbuster, which went on to become one of the year's most beloved clips, thanks to appearances from the likes of Joe Jonas, Riz Ahmed, Diplo, Cameron Dallas, and many more.
"I knew that everybody in that video has their own fan base, so I definitely expected their fans to engage a little bit, but I definitely wasn't expecting [the response] to that extent," the singer, who will soon take the single on the road as she tours with Halsey. "And also to the extent that people would really understand my vision and connect with that. I'm by no means the most skilled director ever, but I feel like I understand how to interact with people and artists on camera, because I've done that so much. But it was fun. The guys were really good. They completely got the vision as well, and were really open-minded, as well. No one was a diva."
Charli XCX getting ready before Marc Jacobs' Spring/Summer 2018 collection presentation in New York City during New York Fashion Week.|||
So, does she feel pressure to make the follow-up just as popular? Maybe just a little. "I need to pull some more favors to get a reaction like that," she said.
But for now, there was still a fashion show to attend—and what's more, plenty of fashion parties to hit up. "I love to party," she said. "I love to party on a normal week, so fashion week is me on extra-mode."
Following the Marc Jacobs show, in fact, she was heading back to this very hotel to perform at that evening's V Magazine party. "The good thing about fashion parties is there is so much free alcohol that generally people don't really give a f–k," she said.
And as for how to deal with the aftermath of all that free alcohol? "There are no rules," she declared. "You just have to be responsible for your actions, and if you have a hangover then you just have to deal with it. You just have to ride it out."
Charli XCX getting ready before Marc Jacobs' Spring/Summer 2018 collection presentation in New York City during New York Fashion Week.|||
Related: After the Afterparty, Charli XCX Still Just Wants to Party
Jared Leto's Robert De Niro Impression Is Flawless