Cher's Kennedy Center Honors Recognition Is Great, But Why Hasn't She Been Inducted Into the Rock and Roll Hall of Fame?
Enough time has passed for the Rock and Roll Hall of Fame to induct the record-breaking musician.
---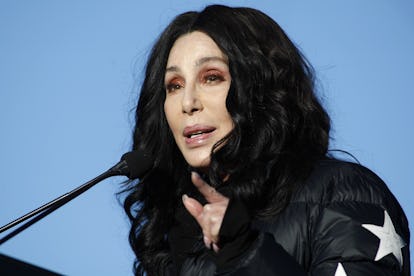 Sam Morris/Getty Images
2018 is Cher's year. Actually, it feels like it's been "Cher's year" for at least the past four years, but this year, she's repeatedly come out on top—in addition to her incessant hilarious Twitter feuds with the president and successful appearance in Mamma Mia! Here We Go Again, it was announced today that Cher will be an honoree at the prestigious Kennedy Center Honors ceremony this winter, along with Reba McEntire, Lin-Manuel Miranda, Philip Glass, and Wayne Shorter.
Last year, Donald Trump (perhaps Cher's biggest nemesis) refused to attend the 40th Annual Kennedy Center Honors, which only the fourth time in history a president has abstained. This year, it's unlikely that he'll show, either, but even if he did, Cher would probably boycott, and in this sociopolitical climate the least they can do is give us the chance to watch Cher watch (and judge) others as they perform her greatest hits onstage at the Kennedy Center.
Cher's recognition at the upcoming 2018 Kennedy Center Honors may be bit belated, but it is well deserved, as she joins the ranks of artists that include Gloria Estefan, Lionel Richie, and Carlos Santana. But there is another, more relevant catalog that should have been marked with Cher's name by now—the inductees list for Cleveland's Rock and Roll Hall of Fame.
The Rock and Roll Hall of Fame has run into an issue when it comes to including female performers; roughly 13 percent of the current inductees are women, and you might be surprised to learn Ella Fitzgerald, Barbra Streisand, Janet Jackson, Kate Bush, Whitney Houston, and Dolly Parton—arguably some of the most influential musicians of the last century—aren't in there, either. It was decades before the Rock and Roll Hall of Fame inducted Nina Simone in 2018, and not even fellow Kennedy Center Honors recipient Carole King has been inducted, yet she's had a successful Broadway jukebox musical modeled after her life songwriting accomplishments. Well, Cher has a play modeled after her life, too, and over five decades of experience under her belt, wherein she has repeatedly proven that she is more than just a musician; she's an icon, and she deserves to be etched into an archive of artists who have had a major impact on rock and roll.
Artists can be inducted into the Rock and Roll Hall of Fame only 25 years after the release of their first record. It's been 54 years since Cher's first single, "Ringo, I Love You," and her singles with Sonny Bono (under the moniker Caesar & Cleo) "Do You Wanna Dance?" and "Love Is Strange." Then her first solo album, All I Really Want to Do, debuted in 1965, as did "I Got You Babe." She became a pop diva in the '70s, '80s, and '90s, consistently topped the charts, has an Emmy, an Oscar, and a Grammy (she's only a Tony away from that EGOT), and is the only artist to have a number one Billboard single for each decade since the 1960s. More than enough years have passed for the Rock and Roll Hall of Fame to consider inducting Cher, with or without Sonny Bono.
Cher once asked her 3 million Twitter followers, "can anyone c me," and even if the Rock and Roll Hall of Fame can't, we certainly can. Every project that involves Cher is better for it, and it's a travesty that the woman who gave us the greatest, most grandiose performance of Mamma Mia! Here We Go Again with the most limited screen time, insightful emoji-fied political criticism on Twitter, and this iconic rendition of "Shoop Shoop (It's in His Kiss)" from the 1990 film Mermaids has yet to join the catalog of rock and roll's most influential figures. While we wait for her rightful induction into the Rock and Roll Hall of Fame, at least we'll have Cher's ABBA covers album to look forward to.
Related: Cher Is Releasing an ABBA Covers Album, Further Continuing Her Love Affair With Meryl Streep