Kim Kardashian Shares First Photo of Chicago West
In a mouse ear filter, naturally.
---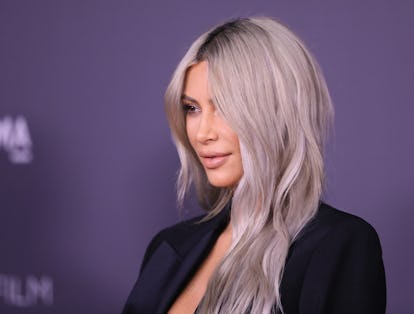 JB Lacroix/ WireImage/Getty
Ladies and gentleman, Chicago West has officially made her social media debut.
On Monday, Kim Kardashian West shared the first ever photo of her newborn daughter to Instagram. Though baby Chi made a quick cameo in her Aunt Kylie Jenner's birth announcement video earlier this month, this is the first time the world has gotten a chance to see her face — albeit a face obscured slightly by some sort of animal ear filter. In the shot, Kardashian and "Chi" (pronounced "shy") are wearing matching white plush outfits. Kardashian West simply captioned the sweet photo, "Baby Chicago." In under one hour the photo had racked up more than two million Likes — just a drop in the bucket compared to cousin Stormi's social media debut that sits with a pretty 17.4 million Likes and quickly became the most-Liked photo on Instagram. Still, there is time to catch up.
Earlier this week, Kardashian West also took to Twitter to describe Chicago's appearance to her curious fans. "She looks a tiny bit like North and a tiny bit like Saint but definitely her own person!" she wrote. Ah, the magic of genetics.
With all of the recent pregnancy and baby news, keeping up with the newest generation of Kardashians is harder than ever. To recap, Chicago was born in January via surrogate, joining 3-year-old North and Saint as the third child in the Kardashian-West clan. (She was named after her father's Illinois hometown.) And in February, Kylie Jenner nearly broke the internet upon the birth of her daughter, Stormi. The two babies will welcome a third cousin later this year thanks to now-pregnant Khloé Kardashian and her beau, basketball player Tristan Thompson.
Though this may be Chicago West's first Insta-appearance, knowing her famous family it most definitely won't be her last.
Related: What Do Kim and Kanye Have Against Middle Names?
A Definitive Ranking of Kardashian Christmas Cards, From Least Kardashian to Most Kardashian
Mispelling of Khloe's name aside, this card is most definitely the least Kardashian thanks to one notable exception: as if Kris Jenner would ever miss a photo opp nowadays.
While this was years before Kim was running around with Karl Lagerfeld and Riccardo Tisci, you can still see the pain in her eyes over having to wear ill-fitting, matching motorcycle jackets with the male-heavy Jenner clan.
A Kardashian never misses the chance for a full-scale, glam-squad heavy photoshoot. The fact that they skipped a prime opportunity for the 2009 holiday card in favor of an outtake from Khloe's wedding is very off-brand.
As everyone who has caught a glimpse of Keeping Up With the Kardashians or paged through an Us Weekly in the past decade knows, this family is not without some serious drama. The party-themed, all smiles 2012 card is just a little too happy.

Courtesy of Celebuzz
Another all-white card, but at least this one comes with some angst (Hi, Khloe) and tense smiles that nod to some underlying drama. Bonus points for a tiny baby Kendall Jenner and an appearance from Santa.
Here we have some high glamour Kardashians, as we've come to know and love—at least, until the Yeezy athleisure movement came in full-force. The fact that Kim's shade of red is just slightly off from the rest of the clan is a great easter egg.
The 2013 David LaChapelle-lensed card was a tipping point for the family, as they went from "delightfully zany" to just "full-on insane." There are just so many things to look at here—which, truly, could be said about the family in general.
A distinct departure from the bonkers previous card, once Kim and Kourtney started building their own brood, they let the kid's take center stage in the family's holiday card. A cute thought, but if rumors are too be true, the concept might be a little too crowded come next year.
You want drama? Glamour? Welcome to the 2010 Kardashian family card. This was the first year to let each sister's individual style stand out, a nod at many fashion empires to come.
2011, however, was the card to end all cards. Case in point? It was in 3-freaking-D. Your Christmas card could never. But hey, what are Kardashians if not ahead of their time?