Chloë Grace Moretz Says Her Movie With Louis C.K. "Should Just Kind of Go Away"
"I don't think it's time for them to have a voice right now."
---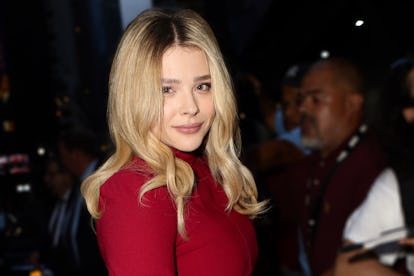 Nancy Rivera/Bauer-Griffin/Getty Images
Last November, The New York Times published a report of Louis C.K.'s history of sexual misconduct, which C.K. admitted to in an apology distributed the next day. The report surfaced hours before C.K.'s film I Love You, Daddy, starring Chloë Grace Moretz and John Malkovich, was set to premiere in New York City; the premiere was canceled, the wider release was canned by the film's distributor, and, by early December, the distribution rights had been sold back to C.K. In an interview with the Times this week, ahead of the release of her new film, The Miseducation of Cameron Post, Moretz discussed I Love You, Daddy's future (or lack thereof).
When asked whether the film should ever be released, Moretz gave the Times a firm "no." "I don't think it should be. I think it should just kind of go away, honestly. I don't think it's time for them to have a voice right now," she said. "Of course, it's devastating to put time into a project and have it disappear. But at the same time, this movement is so powerful and so progressive that I'm just happy to be in communication with everyone and to see the big change in the face of the industry, which I think is very, very real."
In the film, per The New Yorker, Moretz played C.K.'s 17-year-old daughter, who strikes up an affair with Malkovich's 60-something film director known for his on- and offscreen relationships with younger women. C.K., meanwhile, played a producer engaging in a casting couch–style relationship with his TV show's leading lady, played by Rose Byrne. All in all, I Love You, Daddy, with its multiple plot lines glorifying sexual predation, was a tactless release for the #MeToo era, which, by the time of the film's scheduled debut, was already in full swing.
Though this is the first time Moretz has publicly commented on I Love You, Daddy since the Times published its report about C.K., she'd already distanced herself from the film even before the allegations surfaced. Two weeks prior, Moretz pulled out of all pre-release promotion, "when she was made aware of numerous possible accusations," her publicist said at the time.
Related: Chloë Grace Moretz and Chrissy Teigen, Equally Outspoken Twitter Users, Hung Out in New York
Chloë Grace Moretz And Chrissy Teigen, Equally Outspoken Twitter Users, Hung Out In New York
Chrissy Teigen, Chloe Grace Moretz and Freida Pinto attend the Forevermark Tribute event on November 7, 2017 in New York City. (Photo by Jennifer Graylock/Getty Images for Forevermark)

Jennifer Graylock
Sistine Rose Stallone attends as CHANEL celebrates the launch of the Coco Club, a Boy-Friend Watch event at The Wing Soho on November 10, 2017 in New York City. (Photo by Nicholas Hunt/WireImage )

Nicholas Hunt
Zendaya and Ashley Graham attend the Forevermark Tribute event on November 7, 2017 in New York City. (Photo by Jennifer Graylock/Getty Images for Forevermark)

Jennifer Graylock
Mary Kate Olsen, Colby Mugrabi, and Ashley Olsen attend Colby Mugrabi's Minnie Muse Launch Party. Photo courtesy of BFA.

David X Prutting/BFA.com
David Morehouse, Olivier Sarkozy, and Mary-Kate Olsen attend Dia Art Foundation's Fall Night gala honoring Walter de Maria. Photo courtesy of BFA.

Benjamin Lozovsky/BFA.com
Ashley Olsen attends Dia Art Foundation's Fall Night gala honoring Walter de Maria. Photo courtesy of BFA.

Benjamin Lozovsky/BFA.com
Austin Mahone performs on stage at the Fossil x Austin Mahone holiday event on November 9, 2017 in New York City. (Photo by Monica Schipper/Getty Images for Fossil )

Monica Schipper
Sofia Coppola and Kirsten Dunst attend an intimate dinner for Sonia Rykiel at the Chateau Marmont, hosted by Julie de Libran. Photo courtesy of Sonia Rykiel.

Zack Whitford/BFA.com
Nicky Hilton Rothschild and James Rothschild attend The Society of Memorial Sloan Kettering's Associates Committee and VALENTINO hosted the annual Fall Party at The Metropolitan Club in New York. Photo courtesy of BFA.

Hunter Abrams/BFA.com
Alia Shawkat attrends TBS and The Cinema Society hosts the Season 2 Premiere of "Search Party" at the Public Hotel. Photo courtesy of Paul Bruinooge/PMC.

Paul Bruinooge
Maxwell Osborne and Victor Cruz attend a private dinner hosted by Nike to celebrate the launch of the new Nike x Air Force-100. Photo courtesy of BFA.

Owen Kolasinski/BFA.com
Chelsea Clinton and Shari Loeffler attend the Museum of Arts and Design's annual gala held in New York City. Photo courtesy of BFA.

Tiffany Sage/BFA.com
Vera Wang and Camilla Belle attend Vera Wang and Kohl's Celebrate Ten Iconic Year's of Simply Vera Vera Wang. Photo courtesy of BFA.

Max Lakner/BFA.com
Tom Hughes, Jeremy Irvine and Douglas Booth attend the launch of the MR PORTER own label, Mr P, on November 9, 2017 in London, England. Pic Credit: Dave Benett

Dave Benett
A badass group of women artists—Meredith Monk, Mary Weatherford, Mary Heilmann, Sarah Sze, Kiki Smith—were honored at the annual Hirshhorn gala; museum director Melissa Chiu (far left) posed with them Monday at David Geffen Hall in New York. Photo courtesy of BFA.

Zach Hilty/BFA.com
Sies Marjan designer Sander Lak on Thursday at the IAC building in New York with Harriet Colen, mother of bad boy artist Dan Colen, who was getting honored for a good deed: working with the non-profit RxArt to transform the walls of the St. Mary's Hospital for Children in Bayside, New York. (Joe Schildhorn/BFA.com)

Joe Schildhorn/BFA.com
Alessandra Ambrosio attends the OMEGA hosted celebration of the Aqua Terra Collection on November 7, 2017 in Miami, Florida. Photo courtesy of OMEGA.

Gustavo Caballero
Carrie Coon and Founder and Executive Director of Space on Ryder Farm Emily Simoness pose at The 2nd Annual Space on Ryder Farm Gala at Metropolitan West on November 6, 2017 in New York City. (Photo by Bruce Glikas/Bruce Glikas/FilmMagic)

Bruce Glikas
Amirah Kassem and Lynn Yaeger attend a cocktail party celebrating the launch of House of Fluff in New York City. Photo courtesy of BFA.

Mike Vitelli/BFA.com
Peter Marino attends a conversation between Peter Marino and Alexander Gray at Louis Vuitton's Fifth Avenue Maison. Photo courtesy of BFA.

David X Prutting/BFA.com
DJ Khaled attends French Montana's 34th birthday hosted by CÎROC. Photo courtesy of Jerritt Clark.

JERRITT CLARK