Chloe Kim Is the Olympic Golden Girl We've All Been Waiting For
The Olympic snowboarder took home the gold medal for the United States with a near perfect 98.25 score.
---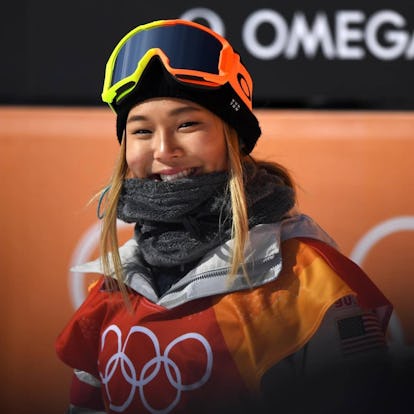 @chloekimsnow
In just a few short days, the 2018 Pyeongchang Winter Olympics has already crowned its golden girl—snowboarder Chloe Kim. Just four years ago, Kim was a 13-year-old prodigy who could have competed in the Sochi Winter Olympics, only she was too young at the time. Now, the 17-year-old is dazzling everyone who watches the Olympic games with her impeccable skills. During the women's snowboard halfpipe event on Monday night, Kim landed back-to-back 1080s in her third run (an impressive and difficult feat to achieve—Kim was actually the first woman to ever land those back-to-back tricks two years ago), and took home the gold medal for the United States with a near-perfect 98.25 score.
Chloe Kim hails from Long Beach, California and despite winning gold medals at the Olympics, she her social media presence gives off the impression that she's a relatable California teen. Like, the most relatable California teen—her Twitter account boasts her thoughts on being hangry, eating churros before a major snowboarding event to stave off nerves, and eating ice cream. Her Instagram account has also gained a lot of attention in the media over the last few weeks—400,000 followers is nothing to sneeze at. Photos of Kim in the car headed to In 'N Out with her dad, going to the mall to pick up some California Pizza Kitchen and even floating in the air with Steve Aoki prove that she's basically just like you were when you were 17. Well, maybe snowboarding in Aspen with an popular internationally recognized EDM DJ isn't the most relatable content, but fame aside, she is a typical teenager nonetheless.
As a first generation Korean-American, Kim's victory is not just a victory for the United States, but a victory for her family as well, who have been seen screaming her name and waving signs from the bottom of the halfpipe during this year's Olympic Games. "My dad has definitely sacrificed a lot for me and I don't know if I could do it, if I was in his shoes. Leaving your life behind and chasing this dream because your kid is passionate about this sport. I think today I did it for my family and I am so grateful to them," Kim told Reuters. Her grandmother, who lives in Seoul and had never watched her compete, traveled to Pyeongchang to see her granddaughter take home the gold. In her conference after the competition the snowboarder told reporters, "This one's for grams."
Related: The Entire Internet Is Hot For Olympics Luger Chris Mazdzer
See W's most popular videos: