Choupette Sets the Record Straight About Being Called an Influencer and Her Annual Salary for Her 7th Birthday
"Stop trying to slide into my Dm's and ask if I'll date your cat."
---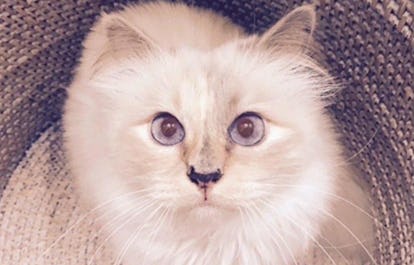 instagram.com/choupettesdiary
Like all of the great one-name icons before her, Choupette is living her best life. Today, that includes celebrating her seventh birthday (which she coincidentally shares with Madonna), and reminding the world of the glamorous life she leads as Karl Lagerfeld's most prized possession. One thing she's inherited from her father? His witty snark. Today, Choupette took to her Instagram to set the record straight about her life and the mythology around it.
"At the wise age of seven, I would like to impart some wisdom on you humans," a caption on her latest Instagram post reads. "I may be '7' but I don't look a day over 5." Choupette proceeded to call out Lagerfeld, writing, "Since age is just a number, I think Daddy @karllagerfeld should finally start being honest about his. ?."
Another thing Choupette was honest about is having her own staff, writing, "My maids still pamper my every need just like they did when I was a kitten." And her means of transportation: "The private jet I fly on is Daddy's and not mine contrary to what you've read in Page 6," she wrote.
As for her income, though, she was a lot more vague. "My annual salary and net worth are none of your business unless it's @forbes calling to put me on their next cover," she wrote. "Move over @kyliejenner!"
Choupette also shared a glimpse at her day to day life, writing, "My hobbies include but are not limited to: sun bathing, pawing at the latest @chanelofficial collections, eating caviar, catnapping on Daddy's sketches at completely inappropriate times."
Don't call her an influencer, though, despite her follower count of over 100,000. "I started my social media career before 'influencers' were a thing," she wrote. "Please refrain from using this term with moi."
Most hilariously, she issued the plea, "Stop trying to slide into my Dm's and ask if I'll date your cat. This isn't @tinder and that's just weird."
Lagerfeld has confirmed Choupette's sense of humor before, telling Numero, "I like to be quiet, and my cat brings me a presence that counts but does not clutter. She is peaceful, funny, amusing, graceful, she is pretty to look at and she has a beautiful step, but her main quality is that she does not speak. It was love at first sight…. She is brushed four times a day, and she is very body-conscious."
"She sleeps next to my pillow and never asks anything to anyone," he added. "When she sits down to dinner, she looks at me as if she's going to ask me deep, philosophical questions." Assumedly, just like this.