Chris Pratt and Bryce Dallas Howard's Children Are Best Friends for Life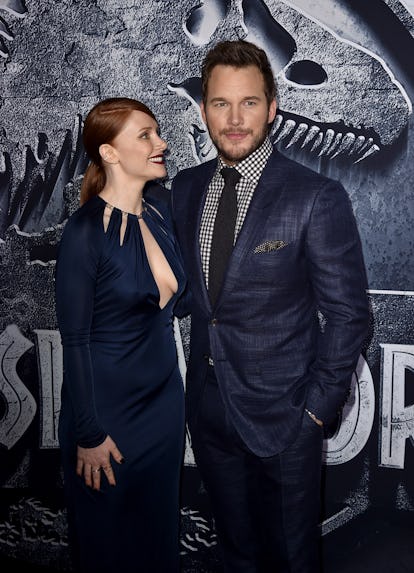 Kevin Winter/Getty Images
Chris Pratt is back to his charming self. After officially filing for divorce from his wife of eight years, Anna Faris, the actor and star of upcoming Jurassic World 2 is back on the TV talk show circuit. Most recently, he appeared on The Ellen DeGeneres Show, where he gave an adorable status update on his five-year-old son with Faris named Jack.
Apparently, he has taken a liking to his dad's co-star Bryce Dallas Howard's daughter Beatrice Jean, also five. "Jack's in love," Pratt told DeGeneres, as People reports. "I asked him the other day, 'If you could have pizza with any one of your friends, who would it be?' And he was like, 'Beatrice.' I had to text [Bryce] and tell her."
Howard confirmed as much, saying, "They really have an incredible friendship. It's awesome… And they'll be friends for their whole life." Cue the awws.
The actress and daughter of director Ron Howard, who notably does not wear high heels in the sequel film as was revealed in the trailer yesterday, also shared how lucky she feels to be sharing her work life with her children, Beatrice and 10-year-old Theodore, who goes by Theo. "For me, with my childhood—getting to be raised on sets with all the kids who were kids of people working on the movies—it's fulfilling the dream of my own childhood in a way, knowing that they're getting to experience this," she said.
Meanwhile, Pratt's son Jack is less impressed with his father's career than he is with his Jurassic World co-stars, the dinosaurs. "I don't know how Beatrice feels, but Jack doesn't really care that I'm an actor," Pratt said. "But when I brought him on set and he was able to climb on top of an animatronic T. rex, he was like, 'Okay, Dad … I'll give in. This is pretty cool.'"
Apparently, Beatrice is as much of a fan of the dinosaurs as Howard revealed that she "sleeps with little toy versions of the Indominus Rex—like hard toy versions of the Indominus Rex, from Jurassic World. It's dangerous, you know? But she sleeps with them, so she's a fan."
Jurassic World: Fallen Kingdom is out June 22, 2018.
A dramatic reading of Drake's "Controlla" by Bryce Dallas Howard, Chadwick Boseman, and more: