Chris Pratt Announces Engagement to Katherine Schwarzenegger
"Sweet Katherine, so happy you said yes!"
---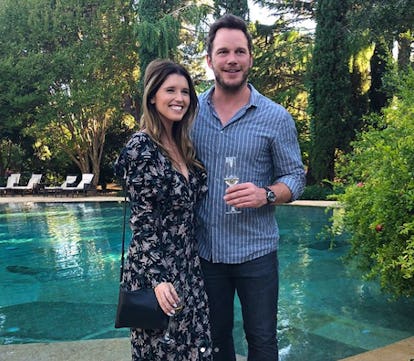 Instagram/roundpondestate
We're still deep in the throes of cuffing season, and even celebrities, it seems, aren't immune to this time of actively and aggressively coupling up. Early Monday morning, Chris Pratt shared in a post on Instagram that he and Katherine Schwarzenegger are engaged, an announcement that comes only about six months after they were first linked.
"Sweet Katherine, so happy you said yes! I'm thrilled to be marrying you. Proud to live boldly in faith with you. Here we go!" Pratt captioned a photo of Schwarzenegger, her shiny new diamond ring on full display, wrapping her arms around his neck. The post received likes from fellow Marvel movie stars like Ryan Reynolds, Chris Hemsworth, and Olivia Munn—plus Wonder Woman herself, Gal Gadot—while Tom Holland offered a "Congrats bro," and Pratt's former Parks and Recreation costar Ben Schwartz wrote, "CONGRATS MY FRIEND. SENDING LOVE AND GOOD VIBES."
Schwarzenegger, for her part, has yet to post anything about her engagement on her own social media channels. Her most recent Instagram post, from Saturday, supports her mom Maria Shriver's newest book, and on Sunday morning she shared a photo of a rainbow and pink clouds over a row of houses on her Instagram Story, adding a bouncing rainbow GIF but no caption.
Pratt, 39, and Schwarzenegger, 29, were first reported to be dating in June, after they were spotted having a picnic together in Santa Barbara on Father's Day. They'd reportedly begun seeing each other about two months before that, though, after being introduced by Shriver. In the 10 or so months since, the pair have been spotted going on regular dinner dates, running errands, and attending church services together, and in September they invited their friends and family, including Pratt's brother, Cully, to Napa Valley for a wine-filled getaway.
They've also spent time with each other's families: Schwarzenegger's dad, Arnold, joined them for breakfast in November, and her brother Patrick brought Pratt to an L.A. Clippers game in December. Meanwhile, Schwarzenegger tagged along as Pratt and his ex-wife, Anna Faris, took their 6-year-old son, Jack, trick-or-treating on Halloween.
News of Pratt's engagement comes only a few weeks after he and Faris, who announced their separation in August 2017, finalized their divorce, which reportedly requires them to live within five miles of each other until Jack has completed sixth grade. Faris has also moved on, with the cinematographer Michael Barrett, and recently spoke about the efforts she and Pratt have made to make their split as amicable as possible. "Chris and I work really hard 'cause we have Jack—that is sort of the long-game idea, making sure Jack is really happy, which makes us really happy," she said on an episode of her Unqualified podcast last week. "We have sort of the luxury of circumstance. You know, we are both in other loving relationships, but it is—it's like, how do you not, in general, sink into a place of bitterness?"
She continued, "I do want to reiterate though, that I fucking acknowledge—we all do, everyone acknowledges—that there is bitterness and pain with all breakups and that hopefully makes us all human.… But the long game is just the worst, being the bigger person. It just is. It fucking sucks—until, then what happens though, is that everyone's happy."
Related: A Guide to the Very Large, Very Beautiful, and Very Connected Kennedy Family
A Guide to the Very Large, Very Beautiful, and Very Connected Kennedy Family
President John Kennedy and his wife Jackie and their children John Jr. and Caroline in Palm Beach, Florida in 1963. Ms. Kennedy lost two other children early in life, Arabella and Patrick.

Getty
Jackie Onassis and Caroline Kennedy attend Courtney Kennedy's wedding to Jeff Ruhe at Holy Trinity Church in Georgetown, Washington D.C., in 1980.

Getty
Caroline Kennedy married her husband, the designer, author, and artist Edwin Schlossberg in Hyannis Port, Massachusetts in 1986. They had three children together, Rose, Tatiana, and Jack.

Getty
Caroline Kennedy attends "Rei Kawakubo/Comme des Garcons: Art Of The In-Between" Costume Institute Gala at the Metropolitan Museum of Art with her son, Jack Schlossberg in May 2017. He bears a resemblance to her late brother, John F. Kennedy Jr.

Getty
John F. Kennedy Jr., his sister Caroline Kennedy, and their mother, Jacqueline Kennedy sit together at an event in the late 1970s.

Getty
John Kennedy Jr. enjoying a hot Labor Day Weekend in Hyannis Beach, Massachusetts, where the Kennedy clan often spent summers.

Getty
John F. Kennedy Jr. and his wife, Carolyn Bessette Kennedy at an event in 1998. The couple wed two years earlier in 1996.

Getty
Even as an adult, John F. Kennedy Jr. loved to spend summers in Hyannis Port. Tragically, in 1999 he and his wife died in a plane crash on the way to the wedding of his cousin, Rory Kennedy in Hyannis Port.

Getty
John F. Kennedy, Jr. and his sister Caroline are cousins with Maria Shriver, whose parents were Eunice Kennedy and Robert Shriver.

Getty
Bobby Shriver, Christopher Shriver, Eunice Shriver, Anthony Shriver, Maria Shriver, Arnold Schwarzenegger, and Sargent Shriver pose for a family photo.

Getty
Patrick Schwarzenegger, Christina Schwarzenegger, Maria Shriver, Katherine Schwarzenegger and Christopher Schwarzenegger pose for a family photo. Patrick dated Miley Cyrus and Christina and Katherine are aspiring models.

Getty
John Jr. and Caroline Kennedy's other cousins include Sydney and Chris Lawford, whose parents were Patricia Kennedy and Peter Lawford.

Getty
Here, Chris Lawford parties with Bianca Jagger at Studio 54 in 1970. Lawford battled with drug abuse problems as a young adult, but the death of his cousin David Kennedy to an overdose forced him to seek help. Today, he's a philanthropist.

Getty
William Kennedy Smith, the son of Jean Ann Kennedy and Stephen Smith, went to prep school in Connecticut with Brooke Shields.

Getty
Edward "Ted" Kennedy, the brother of John F. Kennedy, had three children with his first wife, Virginia Joan Bennett: Kara, Edward Jr., and Patrick, all of whom went into politics and public service.

Getty
Joseph P. Kennedy II, the son of Bobby Kennedy, served as a member of the U.S. House of Representatives from the 8th congressional district of Massachusetts from 1987 to 1999.

CQ Archive/Getty Images
Joseph P. Kennedy's son, Joseph P. Kennedy III has been serving as the U.S. Representative for Massachusetts's 4th congressional district since 2013.

Alex Wong/Getty Images
Michaela Kennedy Cuomo and Mariah Kennedy Cuomo are the daughters of New York Governor Andrew Cuomo and his ex-wife, Kerry Kennedy, the third daughter of Bobby Kennedy.

Mike Pont/Getty Images
Rory Kennedy, the youngest child Bobby Kennedy, went on to be a successful documentary filmmaker, with titles like Ghosts of Abu Ghraib and Last Days in Vietnam.

Larry Busacca/VF15/Getty Images
Robert Kennedy Jr., the other son of Bobby Kennedy, is an environmental activist and attorney, who also went on to marry the actress Cheryl Hines. She is his third wife.

Jason Merritt/Getty Images
Kyra Kennedy, the daughter of Robert F. Kennedy, Jr. and his second wife, Mary Richardson, can often be found partying with Gaia Matisse, the great, great granddaughter of Henri Matisse.

Nicholas Hunt/Getty Images
Conor Kennedy is also the son of Robert F. Kennedy Jr. and his second wife, Mary Richardson. He briefly dated Taylor Swift in 2012 and was arrested in 2017 following a bar fight in Aspen, Colorado.

Stephen Lovekin/Getty Images
Bobby Kennedy III is the son of Robert F. Kennedy, Jr. and his first wife, Emily Ruth Black. He is an aspiring actor and director.

Ernesto Ruscio
Kick Kennedy is the daughter of Robert F. Kennedy Jr. and his first wife Emily Ruth Black. She's made acting appearances on Gossip Girl, Curb Your Enthusiasm, and The Newsroom.

Taylor Hill
Patrick Schwarzenegger is the oldest son of Maria Shriver, a journalist who is a member of the Kennedy family, and Arnold Schwarzenegger. Photo courtesy of Getty Images.

Jim Spellman
Katherine Schwarzenegger is the daughter of Arnold Schwarzenegger and Maria Shriver, and the grand niece of John F. Kennedy. Photo courtesy of Getty Images.