Chrissy Teigen Threw Herself a Luxurious 1960s Pan Am-Themed Birthday Bash
Chic party attendees including Kim Kardashian and Kanye West showed up to the luxurious faux in-flight fine dining experience in honor of Chrissy Teigen.
---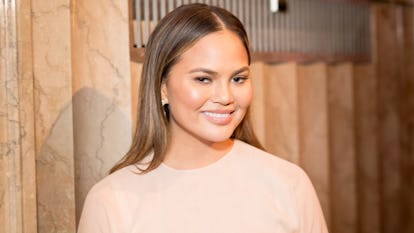 Greg Doherty/Getty Images
Chrissy Teigen celebrated her birthday Thursday night by reliving the golden era of the Jet Age, also known as the Pan Am Experience. Party attendees John Legend, Kris Jenner, Kim Kardashian and even Kanye West showed up to the luxurious faux in-flight fine dining experience in honor of Chrissy Teigen.
"Welcome to Chrissy's Pan Am flight! We don't know where we're going, we don't know what we're doing, we don't care," announced Teigen on the microphone in the middle of the plane. "We're on a special Pan Am Experience flight! I'm dressed like I'm on What's Happening!!, she's dressed like she's on Mad Men and somehow it works," said John Legend in one of his Instagram Stories snaps of the birthday bash. Teigen's luxury in-flight experience marks just the second public appearance of the couple since announcing their new pregnancy earlier this month.
Teigen hilariously demonstrated the oxygen mask safety feature while puffing on a fake cigarette, and celebrated herself with a Nintendo Switch birthday cake (a sweet nod to her love of all things Mario-related). "Thank you for dressing up, I feel like an a–hole because I made you guys do this!" she shouted on the mic, but most of her party attendees looked like they enjoyed playing along.
Kim Kardashian, dressed in a light pink vintage Chanel suit for what she calls a "60s vibe" on her Instagram Stories, also snapped some photos and videos of a rare smiling Kanye West—who did not dress appropriately for the theme—after boarding the plane through the first class entrance. "He hates traveling," Kardashian told her Instagram Stories audience. West loves a family friendly party game—he's won against both Beyonce and Jonah Hill at Connect Four—so it is no surprise that he also won a game of bingo during the party.
Hair stylist Jen Atkin and her husband, photographer Mike Rosenthal, attended the birthday party as well, dressed impeccably on-theme—white gloves, ascots and all.
Guests arrived to the faux LAX set, check in at the front desk, and boarded the Pan Am 747 for a luxury dinner experience with Pan Am flight attendants. The plane was decked out with period decorations, complete with on-board rotary phones, People magazines with Jackie Kennedy Onassis on the cover, and a Sports Illustrated cover with Magic Johnson.
The Pan Am Experience by Air Hollywood is known as "the world's largest aviation-themed film studio," and The Pan Am 747 Jet Clipper is complete with a full traditional flight crew of a captain and flight attendants dressed in authentic Pan Am uniforms, and a crew trainer and historian is often present on set to ensure authenticity in terms of uniform code and meal presentation. At $875 for a pair of tickets, the luxe Pan Am Experience that includes a six course meal and a tour of Air Hollywood production sets isn't really that far out of reach for anyone who wants to party like Chrissy Teigen on their birthday.
Related: Chrissy Teigen and John Legend Make First Public Appearance Since Announcing They're Expecting Their Second Child