Chrissy Teigen Had a Savage Clapback for Bill O'Reilly's Tweet Criticizing Jesus Christ Superstar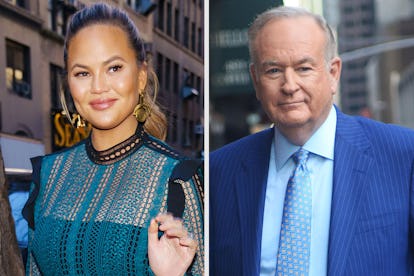 Composite. Getty Images
At this point, there's not a Twitter user in the world who doesn't know that Chrissy Teigen is the undisputed queen of online clapbacks, and that it's unwise to cross her in any way, shape, or form. On Sunday night, however, Bill O'Reilly walked straight into Teigen's crosshairs—and it did not go well for the former Fox News host.
While watching NBC's live performance of Jesus Christ Superstar on Sunday, O'Reilly was plagued by one major concern. "Watching JC Superstar on NBC. Who knew Jesus of Nazareth ran a tattoo parlor? Geez," he tweeted about the 1971 rock opera that dramatizes the events of the last week of Jesus Christ's life. Superstar has never been marketed as a word-for-word retelling of the New Testament, and, in fact, features Jesus and his disciples bursting into song at random intervals. Forget Jesus's relationship with Mary Magdalene or his ongoing political conflicts with Judas—the disciples' tattoos are, obviously, the show's most glaring embellishment.
Teigen, whose husband John Legend played Jesus in the NBC live musical, was livetweeting the performance herself, and soon caught wind of O'Reilly's critique. As if she had been waiting her whole life for such a perfect opportunity, she tweeted back, "Yes the shop specializes in coverups that aren't 32 million dollars," referencing the largest of the several alleged settlements he paid to coworkers who accused him of sexual harassment.
Of course, casually destroying Bill O'Reilly wasn't the only thing Teigen was up to on Twitter last night. She also kept up a running commentary and spilled some of Legend's secrets.
Related: Chrissy Teigen Shut Down Someone Who Said She Looked Better "Before the Boobies and Fillers"