Christie Brinkley Responds to Troll Who Says She "Looks Old Now"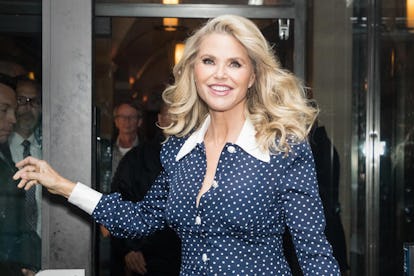 Composite. Myrna M. Suarez/Getty Images
Though Christie Brinkley is one of the world's most famous supermodels, she still somehow has to deal with trolls. When the 64-year-old posted a recent picture, one commenter doled out an insult followed by a backhanded compliment: "She looks old now but still pretty!," the Instagram user wrote. Brinkley didn't just let the snide comment go; she responded with a glass-half-full attitude.
"Hey looking old is a compliment in 'wine speak' ? so thanks!" she wrote. Nearly all of the other comments showered praise on the Timeless Beauty author. "When I grow up I wanna be just like you!," one person commented. "So Beautiful..!!! You give all of us ladies such hope!!! ?," said another. And, of course, others simply declared the model and her toned legs #goals.
Brinkley has previously spoken out against ageism in the modeling industry, and the iconic model posed in a bathing suit on the 2017 Swimsuit Issue cover of Sports Illustrated alongside her daughters Alexa Ray Joel, 32, and Sailor Brinkley Cook, 19. "In a country that's very ageist, people love to put you in little boxes," Brinkley told People after the shoot. "Women feel very limited by their numbers. On a personal level, I thought, if I can pull this off, I think it will help redefine those numbers and remove some of the fear of aging."
And just after her 64th birthday, in February 2018, the model reiterated that, to her, age is just a number. "I'm not going to let that number make me feel old," she said in a cover story for Closer Weekly. "The best part of being my age is not really caring what other people think." And if that doesn't work, Brinkley certainly knows how to kill 'em with kindness.
Related: Christie Brinkley Taught Mariah Carey About the Importance of Good Lighting
A Celebration of Supermodel Christie Brinkley and Her All-American Beauty
Brinkley attended "The Face of the 80's" television special taping in 1982 with bold eyes and lips and her iconic blonde waves.

Photo by Getty.
The supermodel's natural beauty shines through at the celebration of her sportswear and swimwear collection, Russ Togs, Inc. in 1983.

Photo by Getty.
Brinkley wore her blonde locks in wavy curls with a red lip at the Covenant House's Christmas Party in 1989.

Photo by Getty.
With her newly cropped hairstyle, Brinkley rocked bold, voluminous curls with a mauve lip at the Seventh Annual Rock and Roll Hall of Fame Induction Ceremony in 1992.

Photo by Getty.
Wearing her hair in swept over soft curls with sun-kissed skin, Brinkley attended the Fragrance Foundation's 24th Annual FiFi Awards in 1996.

Photo by Getty.
Brinkley radiated elegance at the The White House Correspondents Dinner in 2002 with luminous skin and shoulder length curls.

Photo by Getty.
Exuding old Hollywood glam, Brinkley stepped out at the AAFA American Image Awards in 2005 with her classic, voluminous curls, dewy skin and a nude lip.

Photo by Getty.
Wearing her hair in relaxed curls with bangs, Brinkley keeps her look natural with radiant skin at the Opening of The Tribeca Film Festival Premiere of SOS: Short Film Program in 2007.

Photo by Getty.
Brinkley debuted platinum blonde locks at the Tea Party Angels launch in 2009.

Photo by Getty.
Brinkley channeled the '50s with voluminous curls and a bold red lips a the premiere of The Ides of March in 2011.

Photo by Getty.
At the Celebrity Autobiography in 2015, Brinkley wore her loose waves middle parted with a light pink lip.

Photo by Getty.
Wearing her shoulder length hair softly tousled, with a bold eye and a red lip, Brinkley attended the 30th FN Achievement Awards in 2016.

Photo by Getty.