See Inside the Malibu Home Cindy Crawford and Rande Gerber Just Sold for $45 Million
Between this and the sale of Casamigos for $1 billion, it's not a bad 12 months for these two.
---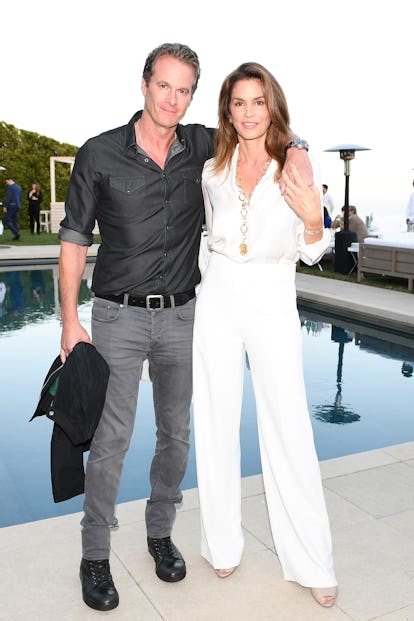 Billy Farrell/BFA.com
Cindy Crawford and Rande Gerber, supermodel and tequila entrepreneur, respectively, are quietly making a name for themselves as burgeoning west-coast real estate moguls. On Friday evening, TMZ reported that the couple, who have two children—the models Presley and Kaia Gerber—had sold their sprawling beachfront estate in Malibu for a sweet, sweet $45 million.
Actually, perhaps they'd best not quit their day jobs in favor of real estate. The home, which, per its real estate listing, features floor-to-ceiling windows with a panoramic view of the coast, a tennis court, a path directly to the beach, four bedrooms, five bathrooms, and a three-car garage on 3.18 acres, first went on the market in 2016, just a year after the Crawford-Gerbers scooped it up for $50.5 million; they initially listed it for $60 million before dropping the price to $50 million last fall and finally accepting an offer of $45 million. (It was reported back in 2016 that the furniture was also up for grabs, but there's no word on whether this buyer took them up on the offer.) Considering Crawford and Gerber invested in "transforming" their abode into a "one-of-a-kind beach compound," it doesn't seem like the sweetest deal after all.
It's not the first time the couple have upgraded and flipped a property: Back in 2015, they sold a 1.4 acre Malibu home for $13.341 million, more than double what they paid when they acquired it the previous year. (Still, it's not quite the reported asking price of $15.45 million.)
Just last fall, Crawford and Gerber bought a Trousdale home from OneRepublic musician and producer Ryan Tedder for $11.6 million, according to the Los Angeles Times. (Tedder and his wife, Genevieve, reportedly also upgraded the midcentury home before turning it over to its new owners. Every celebrity is a home improvement guru, apparently.) And while Crawford and Gerber maybe shouldn't put all their eggs in the house-flipping basket, Gerber is doing just fine. He and Casamigos co-founder George Clooney offloaded the tequila brand for a billion dollars last summer. Maybe liquor is really where it's at.